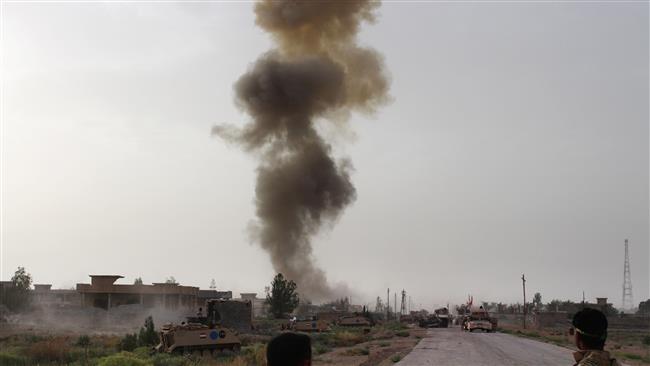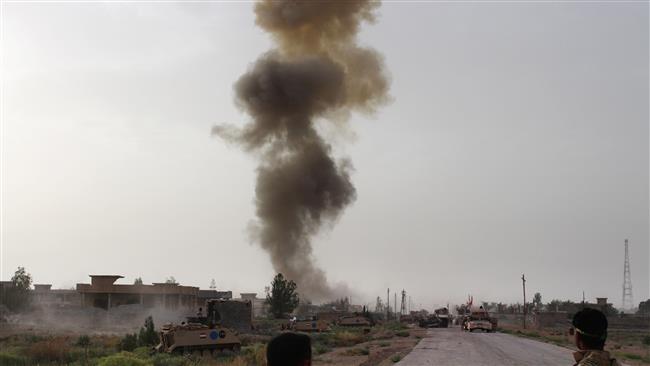 Iraqi forces backed by fighters from Popular Mobilization units have tightened the noose around Takfiri Daesh terrorists, in their second largest stronghold, Fallujah in Anbar Province, PressTV reports.
According to Anbar operation command, at least 130 Daesh militants have been killed so far across the troubled region. Iraqi forces are now just a few kilometers away from the militant-held city from its south and west.
Iraqi security forces have gained ground around Fallujah after they cleared a main road from Amriyat to al-Fallujah in the troubled western province. The Iraqi security forces managed to take this route after fierce clashes.
The Iraq army's advances have prompted Takfiris to cut off all entrances to and from Fallujah.
Iraqi ground forces, backed by the country's Air Force and artillery fire, earlier recaptured Albu Khamis, Albu Khalid, Albu Asi and Albu Manahi villages, all located south of the flashpoint city of Fallujah.
The latest developments come as terrorists have increased their bombing attacks in Baghdad. However, Iraqi security officials say the terror attacks are just a coincidence and have nothing to do with the ongoing offensive.
Saad Maan, a spokesman for Iraqi Interior Ministry, said the Iraqi security forces are imposing extra ordinary measures to counter terrorist attacks in the capital and elsewhere.
"It is obvious that whenever Daesh terrorists are under pressure in the battlefield, they start sending in more suicide bombers and explosive-laden cars to Baghdad to boost morale of its fighters and confuse our forces. However, we have boosted intelligence and military to counter these attacks and secure regions of Baghdad belt and block infiltration from al–Anbar," said the spokesman.
Meanwhile, a senior Iraqi military commander told Press TV: "Daesh terrorists didn't fall from the sky. They are coming into Iraq from Turkey through Syria with ideological and financial support of Saudi Arabia, Turkey and Qatar. This country (Saudi Arabia) has conspired against Iraq."
However, he added, security in Iraq is very reassuring and terrorists' base is shrinking, he added.
Daesh still controls Fallujah, only 50 kilometers (30 miles) west of Iraqi capital Baghdad, but it is almost completely besieged by pro-government forces.
The ongoing drive against Daesh is part of a larger operation against the group in Iraq's west and north, where the militants have been in control of some territories since summer 2014. The military and allies liberated Ramadi late December following fierce clashes around the town.
​The militants have been committing heinous crimes against all ethnic and religious communities in Iraq, including Shias, Sunnis, Kurds, and Christians. Iraqi army soldiers and fighters from allied Popular Mobilization Units are seeking to win back militant-held regions in joint operations.