Iraq
Middle East
World News
Iraqi Hashd al-Sha'abi forces shoot down reconnaissance drone over Nineveh
Members of pro-government Popular Mobilization Units, better known by the Arabic name Hashd al-Sha'abi, have reportedly intercepted and targeted an unmanned aerial vehicle as it was flying in the skies over a region in the country's northern province of Nineveh.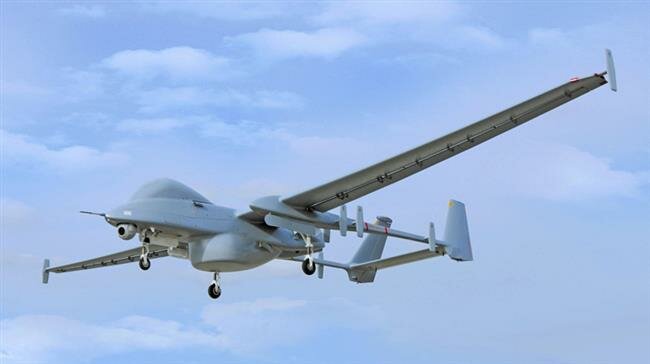 The media bureau of the volunteer forces said in a statement that Hashd al-Sha'abi forces shot down the unidentified drone as it was on a reconnaissance mission, and flying for more than 20 minutes over one of their command centers there.
The statement added that the volunteer forces brought down the unmanned aerial vehicle with anti-aircraft guns after ensuring that the aircraft was not of Iraqi origin.
The development came only a few hours after Prime Minister Adel Abdul-Mahdi, President Barham Salih and Parliament Speaker Mohammed al-Halbousi held a meeting in the capital Baghdad with senior commanders of the Hashd al-Sha'abi to discuss measures aimed at protection of Iraq's security and sovereignty.
They stated that the latest assaults on Hashd al-Sha'abi positions were meant to marginalize the volunteer forces, and strip them of the role in the fight against the Daesh Takfiri terrorist group.
On Sunday, the Iraqi Arabic-language al-Sumaria television networkreported that the air defenses of the 50th Brigade of Hashd al-Sha'abi had shot down a spy drone while it was approaching PMU bases in Nineveh.
It was not immediately clear who was operating the drone.
raq's Hashd al-Sha'abi downs spy droneForces from the Popular Mobilization Units (PMU) in Iraq shoot down a spy drone in the country's northern Province of Nineveh.
The Iraqi pro-government forces had shot down another spy drone on August 22, as it was flying in the vicinity of the 12th Brigade of Hashd al-Sha'abi and over the outskirts of Baghdad.
Iraq's PMU forces shoot down spy drone over BaghdadIraq's pro-government Popular Mobilization Units (PMU) says it has shot down a spy drone over capital Baghdad.
Also on Monday, Iraq's military said it has launched an investigation into a purported Israeli strike that killed two Hashd al-Sha'abi fighters near the town of al-Qa'im close to the country's western border with Syria.
Hashd al-Sha'abi: Israel killed two fighters near Syria borderIraq's pro-government Popular Mobilization Units says Israel was behind the recent deadly drone attack that killed two near the Syrian border.
"An investigation is ongoing now to determine what happened with the strike," the spokesman for Iraq's Joint Operations Command, Brigadier General Yahya Rasoul, told AFP.
Sayf al-Badr, spokesman of the Iraqi Health Ministry, said in a statement that at least one person was killed and 29 others were wounded in a powerful explosion, which rocked a military base in southern Baghdad on August 12.
An unnamed source from Iraq's Interior Ministry said an ammunition warehouse exploded inside a federal police military base, named Falcon, in Owerij area near the southern district of Doura.
Don't play with fire: Iraqi anti-terror force warns IsraelIraq's Hashd al-Sha'abi has warned Israel against "playing with fire" after US Secretary of State Mike Pompeo hinted that Tel Aviv may attack the anti-terror volunteer fighters. 
Arabic-language al-Ahad TV television network reported on July 19 that a drone had dropped explosives onto a base belonging to the Popular Mobilization Units near the town of Amerli, located about 170 kilometers north of the capital, in the early hours of the day, killing at least one PMU fighter and injuring four others.
Video footage broadcast by Iraqi channels showed a blaze burning at the site and plumes of thick smoke billowing. There was no immediate claim of responsibility for the attack.
Blasts hit Hashd al-Sha'abi position north of Iraq capitalSeveral blasts have rocked a position of pro-government Hashd al-Sha'abi forces near Balad air base north of the Iraqi capital, Baghdad.
Additionally, the Iraqi al-Etejah television network reported that an American B350 reconnaissance plane had flown over the area a few days earlier.
The Israeli regime has a record of attacking the forces fighting Daesh in Syria.
In June 2018, Hashd al-Sha'abi fighters came under attack in Syria's border town of al-Hari, in the eastern province of Dayr al-Zawr, as they were chasing Daesh terrorists out of the area.
Both the Syrian government and Hashd al-Sha'abi declared back then that the attack near the Iraqi-Syrian border had been deliberate and could only have been carried out by either Israel or the United States.