Iraq
Middle East
Iraqi Hashd al-Sha'abi Targets Spy Drone Over Baghdad Airspace
Iraq's Hashd al-Sha'abi (popular mobilization forces) traced and targeted a spy drone over one of its centers near Baghdad.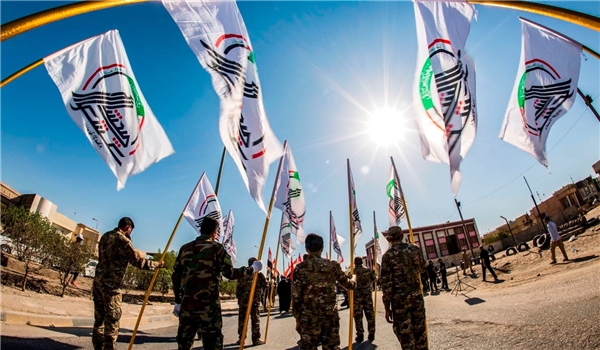 The Hashd al-Sha'abi in a statement on Thursday announced that the air defense systems of the popular forces' Brigade 12 has intercepted a spying drone over its center in Baghdad.
The statement said that Hashd al-Sha'abi prevented the hostile aircraft from conducting its reconnaissance mission.
In a relevant development on Thursday, second-in-command of Hashd al-Sha'abi Abu Mahdi al-Mohandes, held the United States fully responsible for recent attacks on the volunteer forces.
He said in a statement that the US, which has contributed to the emergence of terrorist groups in the Middle East, is now considering various ways to violate Iraq's sovereignty and targeting the Hashd al-Sha'abi .
"We have accurate and credible information that Americans brought in four Israeli drones this year via Azerbaijan to operate within the US fleet to carry out sorties aimed at Iraqi military headquarters. We also have other information, maps and recordings of all types of American aircraft, when they took off, when they landed and the number of hours they flew," al-Mohandes pointed out.
"Instead of chasing Daesh terrorists, US military aircraft are collecting information and data concerning the brigades of Popular Mobilization Units, and their warehouses and arms depots," the statement added.
Sayf al-Badr, the spokesman of the Iraqi Health Ministry, said in a statement that at least one person was killed and 29 others were wounded in a powerful explosion, which rocked a military base in Southern Baghdad on August 12.
An unnamed source from Iraq's Interior Ministry stated that an ammunition warehouse exploded inside a federal police military base, named Falcon, in Owerij area near the Southern district of Doura.
The source added that the blast was followed by a series of explosions at the warehouse that sent a large amount of shrapnel to nearby houses.