Iraq
Iraqi jurisprudent calls ethnicities to boost coexistence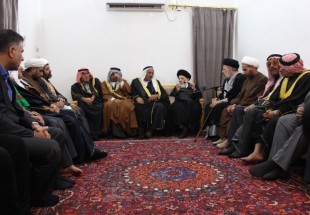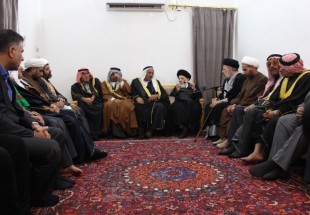 Top Iraqi jurisprudent admitted a group of dignitaries and clerics from Nineveh demanding them to expand solidarity among people to prevent outside players targeting the unity in the country.
Ayatollah Seyyed Mohammad Saeed Hakim, senior Iraqi jurisprudent, met with a group of religious clerics and heads of tribes from Nineveh urging them to fulfill their mission to expand the spirit of affection and solidarity among people so that they are not defrauded by foreigners, reported Taqrib News Agency (TNA).
The cleric warned of hostile efforts among people and said," These hostile thought promoted by enemies have destroyed cities, took the lives of innocent people and brought massive catastrophes to our country."
Ayatollah Hakim urged the dignitaries from Nineveh to call people to expand ties and boost coexistence with other ethnicities.
Prominent jurisprudent also demanded for all out participation of all groups for reconstruction of Iraq.