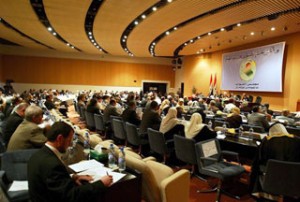 Iraqi lawmakers have finally ended a long-running impasse over a law needed for parliamentary elections to be held next year, paving the way for political reconciliation and the withdrawal of US troops.
"The law has been adopted with near-unanimity," parliament speaker Iyad al-Samarrai said on Sunday in the Council of Representatives.
"This is wonderful and a huge achievement for Iraq. Now the way is paved to conduct the election at a date to be determined by the presidency council," said deputy speaker of parliament Khalid al-Attiya.
The new law for Iraq's upcoming election had been mired for weeks over demands for a greater political voice for minority Sunnis and the distribution of seats in the Iraqi parliament in next year's election.
The law will expand parliament from 275 seats to 325, 310 of which will be allotted to Iraq's 18 provinces, with the remainder reserved for religious minorities and blocs that garner national support but do not win seats in individual provinces.
It is a revised version of the first draft of the election law, with three additional seats for provinces in northern Iraq's autonomous region of Kurdistan and one fewer reserved seat.
"I would like to congratulate the Iraqi people for this historical victory," Vice President Tariq al-Hashemi said. Al-Hashemi had vetoed a previous version of the law last month, leading to further negotiations and delaying already late elections. However, the new law sidestepped a veto that the Iraqi vice president had earlier threatened.
Originally, the nationwide elections had been slated for the middle of January, but officials now say the poll will most likely be held in late February or March.