Iraq
Iraqi parliament passes measures to meet anti-govt. protesters' demands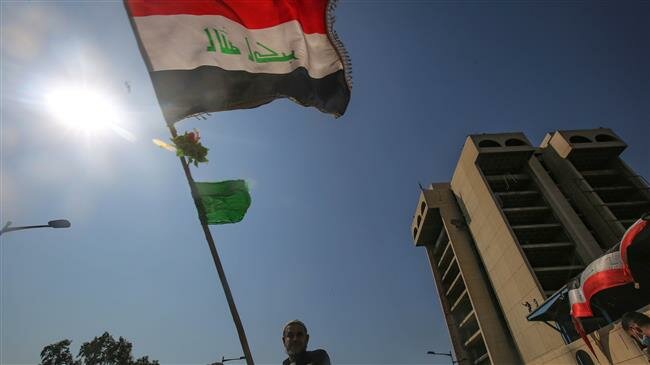 The Iraqi parliament has taken steps, including changing the country's Constitution and ending official perks, in order to meet the demands of anti-government protesters and prevent growing violence in the country
More than 200 Iraqi lawmakers attended the Monday parliamentary session to discuss the measures, which include revoking privileges for the three political heads – the president, the prime minister, and the parliament speaker – and several senior politicians.
The parliamentarians also voted to dissolve irregular provincial councils and form a commission to draw up a list of changes and submit them to lawmakers within four month.
The government has also pledged to address the demonstrators' demands by delivering a package of economic and political reforms.
Sadr urges early elections under UN supervision
Meanwhile, the leader of the Sadrist movement in Iraq's Parliament, Muqtada al-Sadr, has called for early elections in Iraq under the supervision of the United Nations and a new electoral body.
Sadr said in a tweet, "Brother, Adel Abdul Mahdi has to come under the dome of parliament to announce early elections and under the supervision of the United Nations with legal periods that don't last for long."
"During this period, all necessary measures will be taken to change the electoral commission and its law and present it to the people," he said.
Iraqi protesters are angry over the country's economic conditions and what they see as corruption.
Earlier in the day, the army said it will impose an overnight curfew in Baghdad until further notice, as renewed anti-government protests entered a fourth day.
The curfew hours are from midnight to 6 a.m. local time until further notice, state television quoted the Baghdad Operations Commander as saying on Monday.
The curfew came after students and schoolchildren joined protests in Baghdad and cities in southern Iraq, defying the education minister who had warned them against partaking in the unrest.
Anti-government protests made a return in Iraq on Friday, as thousands of people once again took to the streets to vent their anger over corruption and less than optimal living conditions.
The protests soon turned deadly as armed elements opened fire on both protesters and security guards. Iraqi security agents have so far arrested a few gunmen and the country's elite Counter -Terrorism Force has been deployed to the streets to prevent damage to sensitive centers.
So far, at least 67 Iraqis have been killed and hundreds more wounded in the second bout of unrest targeting Abdul-Mahdi's government.
More than 150 people, including security forces, were killed when the protests first erupted earlier this month.
Iraq's most prominent Shia cleric Grand Ayatollah Ali al-Sistani has also called on Baghdad to probe the deaths in the previous round of unrest and address people's demands.