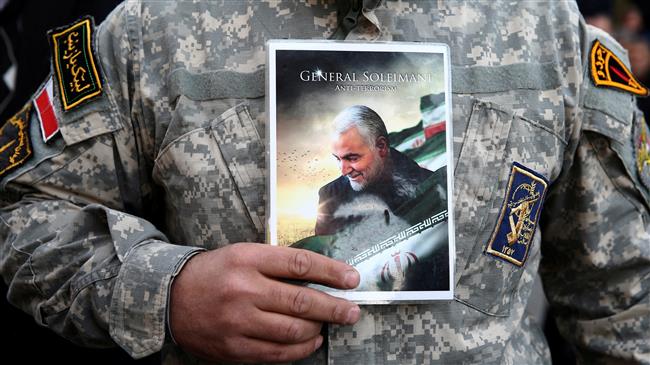 Iraq's Parliament Speaker Mohammed al-Halbousi has denounced as a "flagrant" breach of Iraqi sovereignty a US airstrike in Baghdad that targeted and assassinated Iran's Lieutenant General Qassem Soleimani and Abu Mahdi al-Muhandis, the second-in-command of Iraq's Popular Mobilization Units (PMU).
"Yesterday's targeting of a military commander in Iraq's armed forces near Baghdad international airport is a flagrant breach of sovereignty and violation of international agreements," Halbousi said in a statement on Friday.
He urged the government to take all necessary steps to prevent such attacks, but said, "Iraq must avoid becoming a battlefield or a side in any regional or international conflict."
Separately, Sheikh Khaled al-Molla, a prominent Sunni cleric and the head of the Iraqi Scholars Association, urged the Iraqi people to exert pressure on the Baghdad government and parliament to expel the American military from the country.
He made the remarks as he attended a funeral ceremony in the Iranian Embassy in Baghdad on Friday afternoon after the assassination of Soleimani and al-Muhandis.
Al-Molla said the US military had targeted the dignity of the Iraqi people by killing the two commanders.
Iran has pledged a "harsh revenge" on America for the assassination.
Lebanon condoles Iran
Meanwhile, Lebanese President Michel Aoun offered condolences to Iranian President Hassan Rouhani and Iraqi President Barham Salih in separate messages.
Turkey says Soleimani's assassination will fuel instability
The Turkish Foreign Ministry said in a written statement that it was deeply concerned by the growing tensions between the US and Iran, saying the US assassination of Lieutenant General Soleimani would increase insecurity and instability in the region.
Egypt says Iraq developments augur escalation
Egypt also expressed concern about the assassination, calling for the avoidance of any further escalation.
"The [Egyptian] Foreign Ministry is following with great concern accelerating developments in Iraq, which augur an escalation it is important to avoid," it said in a statement on Friday. "For this reason, Egypt calls for containing the situation and avoiding any escalation."
EU: Cycle of escalation must stop
The European Union (EU) also warned against further escalation.
The president of the European Council, who represents EU leaders in Brussels, said, "The cycle of violence, provocations and retaliations which we have witnessed in Iraq over the past few weeks has to stop."
"Further escalation must be avoided at all costs," Charles Michel added, hours after the US strike, although he did not refer to it directly.