Ashura
Days of Allah
Iraq
Middle East
Iraqi People Converge on Karbala on Eve of Arbaeen
Pilgrims from across Iraq gathered in the holy Iraqi city of Karbala on the eve of Arbaeen, which marks 40 days since the martyrdom anniversary of Imam Hossein (PBUH), the third Shiite Imam.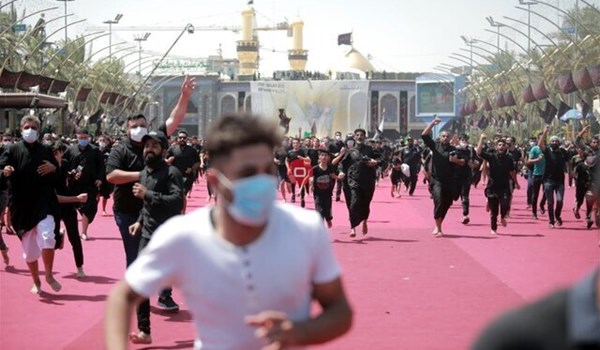 Shiites, Sunnis, and people of other faiths from Iraq have been on a spiritual journey to the Iraqi city, many on foot, since days ago.
Millions of Muslims in Iraq who rallied from the city of Najaf to the city of Karbala arrived in Karbala city on Thursday to mark the Arbaeen.
Muslims from across the world, including Iran, who had attended the 100-km rally in the previous years to Karbala and to the holy shrine of Imam Hossein (PBUH) could not participate in this year's Arbaeen ceremony due to the closure of Iraq's borders for the fear of coronavirus epidemic.
In September, Shiite pilgrims of Iraq had also flocked into Karbala, some 100 km South of Baghdad, and into Kadhmiyah in Northern Baghdad to commemorate Ashoura, which marks the martyrdom of Imam Hossein (PBUH), grandson of Prophet Mohammad (PBUH) and the third Shiite Imam.
Imam Hossein (PBUH) was martyred in the 680 A.D. battle fought on the plains outside Karbala, a city in modern Iraq that's home to the Imam's holy shrine.
In the battle, Imam Hossein (PBUH) was decapitated and his body mutilated by Yazid's armies. All of Imam Hossein's male family members, relatives, friends, soldiers who all together formed a 72-member army were beheaded in an unequal war with a 30,000-strong army of the enemy in the desert of Karbala.
The occasion is the source of an enduring moral lesson for the Shiites.
Imam Hossein's martyrdom – recounted through a rich body of prose, poetry and song – remains an inspirational example of sacrifice to Shiites, who make up a majority of the Muslim population in Iran, Pakistan, Iraq and Bahrain.