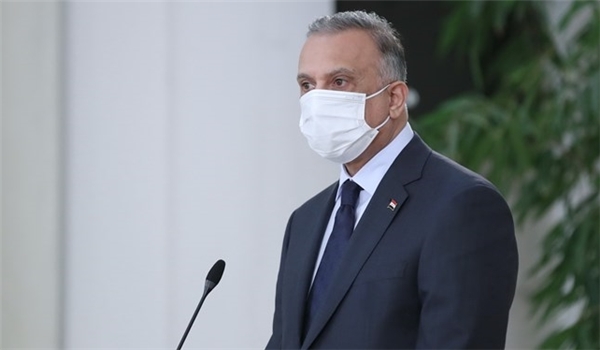 Iraqi Prime Minister Mustafa al-Kadhimi noted the strong presence of Iran-made goods in his country's market, and expressed the hope that the Khorramshahr-Basra railway would soon be linked for the further development of economic relations between the two neighbors.
"We held talks to implement agreements between the two countries, including connecting the two railways from Khorramshahr to Basra and I hope so much that these agreements will be implemented soon," al-Kadhimi said at a joint press conference with Iranian President Hassan Rouhani in Tehran on Tuesday.
"I hope to witness flourishing economic ties between the two countries," he added.
"Iraq does not allow any threat to be posed to Iran from its territories, specially given the fact that relations between the two countries date back to hundreds of years ago and we should support these age-old ties," al-Kadhimi said.
He emphasized that Baghdad wants excellent relations with Tehran, appreciating Iran for its assistance, as the first country to have rushed to Iraq's fight against the terrorist groups.
The Iraqi premier also thanked Iran's help to his nation in campaign against the Coronavirus in recent months.
"Iraq has also stood beside Iran to help it pass the economic challenges," al-Kadhimi said, adding that the Iraqi markets are full of goods imported from Iran.
"Our relations with Iran and different countries are based on good will and we are endeavoring to find solutions to take the region out of challenges and tensions that we are suffering through cooperation with the Islamic Republic of Iran," he added.
Rouhani, for his part, said that Iran will help the Iraqi government and nation in fighting against the coronavirus as much as its possibilities and capacities allow and will provide the country with medicine and hygiene products.
"The second issue which was discussed by us was enhancement and expansion of trade ties between the two countries and the [Iranian] government is determined to increase the volume of trade relations between the two countries to $20bln," he added.
Also, the two countries are determined to implement the agreement which was signed by Tehran and Baghdad nearly two years ago, President Rouhani said.
He also commemorated former IRGC Quds Force Commander martyred Lieutenant General Qassem Soleimani and deputy head of Iraq's Popular Mobilization Units (PMU) forces Abu Mahdi al-Muhandis for their efforts to establish security in Iraq by fighting against the terrorist groups.
Iranian Government Spokesman Ali Rabiyee said on Tuesday that the current visit by al-Kadhimi to Tehran is highly important for the two countries' efforts to further develop economic relations and anti-terrorism cooperation.
"Mr. al-Kadhimi's visit is aimed at strengthening relations between Iran and Iraq and we have a strategic background too. Annihilation of the ISIL terrorists, obviation of environmental threats and foreign currency exchanges are among the important bilateral issues," Rabiyee told reporters in Tehran.
He dismissed al-Kadhimi's mediation between Iran and Saudi Arabia or Iran and the US for resumption of ties, saying that "we welcome all proposals" but do not accept any mediation for relations with Washington.
Rabiyee also said that Iran will certainly legally pursue the US assassination of General Soleimani and punishment of the culprits behind it in talks with the Iraqi side.
Al-Kadhimi arrived in Tehran on Tuesday. The Iraqi prime minister is to meet with top Iranian officials, including Supreme Leader of the Islamic Revolution Ayatollah Seyed Ali Khamenei.
Chairman of Iran-Iraq Joint Chamber of Commerce Yahya Al-e Es'haq said on Tuesday that the two countries are seeking to attain $20 billion worth of bilateral trade exchanges.
He pointed to the visit of al-Kadhimi to Iran today, and said, "The visit of Iraqi prime minister to Iran will play a very constructive and important role in developing and strengthening trade ties between the two neighboring countries."
During the Iraqi prime minister's visit to Iran, planning to reach the horizon of $20 billion bilateral trade between Iran and Iraq will also be discussed, Al-e Es'haq added.
He further noted that economic issues will include a major part of the Iraqi prime minister's visit to the Islamic Republic of Iran.
Iraq's debt to Iran on importing electricity and energy will be the other important issues that will be discussed between Iranian and Iraqi officials, he said, adding, "Agreements have already been made on the repayment of Iraq's about $3 billion debt to the Islamic Republic of Iran, which is gradually being implemented, and during this trip, its payment system will be examined clearly."
Meantime, Director-General of the Central Bank of Iran (CBI) for International Affairs Hamid Qanbari also announced further expansion of cooperation between Tehran and Baghdad in foreign currency and banking fields.
Qanbari, who had traveled to Iraq along with Iranian Foreign Minister Mohammad Javad Zarif on Sunday, said that "useful and constructive talks" were held with the Iraqi side whose results will be finalized during the visit by Iraqi Prime Minister Mustafa al-Khadhimi to Tehran.
"It is expected that a considerable volume of foreign currency, several billions of dollars, will enter the (Iranian) market and a major part of demands for foreign currency will be met in case of materialization of the agreement," he said on Tuesday.