Iraq
Iraqi PM: ISIL Surrounded by Iraqi Forces in Ramadi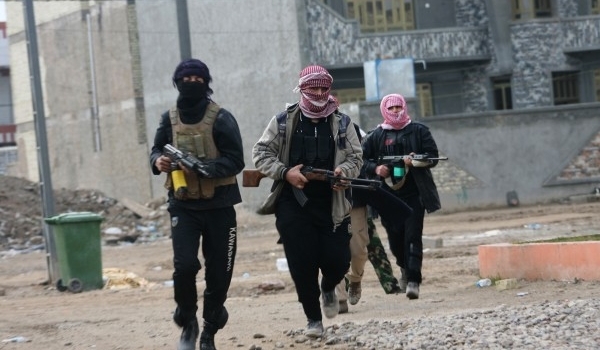 Iraqi Prime Minister Haider al-Abadi announced that Ramadi, the capital city of al-Anbar province, has been surrounded by the Iraqi forces who are ready to start massive attacks to take the city back from the ISIL terrorist group.
"The army and popular forces have surrounded Ramadi, the center of al-Anbar province," Abadi said in a meeting with the Russian officials in Moscow.
"Our forces have surrounded Ramadi from different sides and are ready to free it at the earliest," he added.
The ISIL Takfiris took over a major part of Ramadi earlier this month.
On Tuesday, the president of Anbar provincial council announced that Iraqi security forces regained control of 30 percent of Ramadi.
The areas under government control "include al-Sajariyah, al-Sufiyah and areas near al-Mallab, which represent 30 percent of the city of Ramadi", President of Anbar Provincial Council Sabah Karhoot said in a statement on Tuesday.
Popular forces have been deployed to the city to fight the Takfiris. The volunteer groups who have joined the Iraqi army, were dispatched to Anbar after Abadi called on them to join the fight to drive the Takfiri militants out of Ramadi.
"The arrival of al-Hashed al-Sha'bi (Popular Mobilization) brigades in Anbar" has caused a deep-seated fear in the ranks of the Takfiri group," Karhoot said.
The Anbar Provincial Council released a statement late on Monday, saying that the Popular forces, who have come from Babil Province, are stationed "in the al-Habaniyah military base, located 30 km East of Ramadi".
The ISIL Takfiri terrorists currently control shrinking swathes of Syria and Iraq. They have threatened all communities, including Shiites, Sunnis, Kurds, Christians, Ezadi Kurds and others, as they continue their atrocities in Iraq.
Senior Iraqi officials have blamed Saudi Arabia, Qatar, and some Persian Gulf Arab states for the growing terrorism in their country.
The ISIL has links with Saudi intelligence and is believed to be indirectly supported by the Israeli regime.