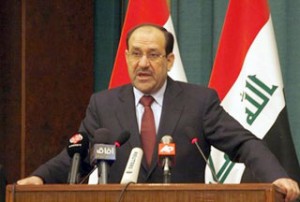 Iraqi elections partial results on Tuesday showed that Prime Minister Nuri al-Maliki's party looked likely to form parliament's single largest grouping.
Maliki's success in the capital Baghdad, which accounts for more than twice as many seats as any other province, builds on his lead in seven provinces overall, and is a major boost for his bid to retain the top job.
Maliki's main rival, secular ex-premier Iyad Allawi, leads in five provinces, with two-thirds of votes having been counted nationwide.
Preliminary results, based on 60 percent of ballots counted in Baghdad, showed Maliki's State of Law Alliance held a 65,000-vote lead over Allawi's Iraqiya bloc with the Iraqi National Alliance (INA), a coalition of Shiite religious groups, a distant third.
The election — the second since former dictator Saddam Hussein was toppled — comes less than six months before the United States is set to withdraw all of its combat troops from Iraq.
Maliki also holds leads in the oil-rich province of Basra, the third-biggest in Iraq, as well as five other provinces south of Baghdad.
Iraq's proportional representation system makes it unlikely that any single group will clinch the 163 seats needed to form a government on its own, and protracted coalition building is likely.
Figures released on Monday showed Allawi, a Shiite Arab like Maliki, was narrowly ahead in the northern oil province of Kirkuk, defying predictions of a win for the Kurdish bloc which wants to incorporate Kirkuk into autonomous Iraqi Kurdistan in the north.
Iraqiya is also leading in Nineveh, Iraq's second-largest province around the main northern city of Mosul, as well as the mostly Sunni provinces of Anbar, Diyala and Salaheddin.
The INA, meanwhile, is ahead in three Shiite southern provinces while Kurdistania, an alliance of the two main Kurdish factions, was ahead in all three of Kurdistan's provinces.