Iraq
Iraqi PM Welcomes Erbil Meeting to Solve Political Disputes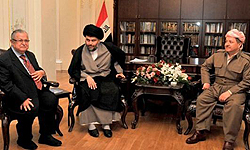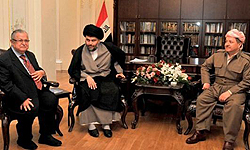 A prominent Iraqi politician and a senior advisor to Iraqi Prime Minister underlined Nuri al-Maliki's full support for the current meeting in Erbil in a bid to resolve the ongoing political dispute in the country.
Speaking to FNA, member of the State of Law Coalition Sami al-Askari said that the party and the Iraqi Prime Minister welcome and support the Erbil meeting if it proves to be seeking to end domestic disputes in line with Iraq's national interests.
Askari expressed the hope that the meeting could bring all the political streams into a united stance on domestic and foreign threats and bring the country out of the existing problems.
On Saturday, Iraqi President Jalal Talabani, Moqtada al-Sadr, President of the Iraqi Kurdistan region Masoud Barzani, Iyad Allawi, and parliament Speaker Osama al-Nujaifi held a meeting in Arbil, the capital of Kurdistan in Northern Iraq.
The meeting was held in the office of Talabani's party.
According to the latest media reports, the Iraqi leaders called in a statement to put in place mechanisms that can solve the instability, and for ways to enhance the democratic process and activate the democratic mechanisms in managing the country's affairs and preventing dangers that are targeting" democracy.
The leaders also discussed the necessity of looking into solutions to end the (political) crisis, the continuation of which has become a danger to the higher national interests, said the statement which was read by Fuad Hussein, head of the office of the presidency in Kurdistan.