Economy
Iraq
Middle East
Iraqi port, refinery resume operations after protesters leave: Sources
A port and oil refinery in southern Iraq have resumed operations after anti-government protesters, who were blocking the roads leading to both sites, left the areas.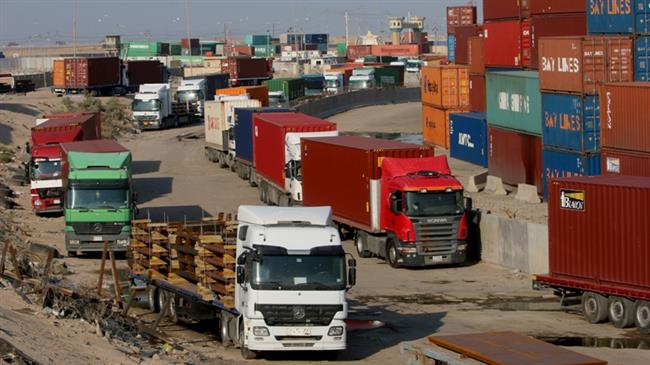 Port officials, security and oil sources said that the Umm Qasr commodities port near Basra, and the Nassiriya oil refinery in Dhi Qar province, resumed operations on Thursday, Reuters reported.
The sources did not immediately say why or how the protesters had left the zones.
Operations at the Umm Qasr commodities port have been at a complete standstill since last Wednesday, after protesters first blocked its entrance a day earlier.
Safa al-Hussein, manager of Iraq's state-owned ports company, said that all terminals in the port were operating normally in the early hours of Thursday.
Iraqi army bans protests outside Baghdad's Tahrir SquareThe Iraqi army says its forces will break up any gathering that will be held utside Baghdad's Tahrir Square, as anti-government protests continue in the Arab country.
According to the Iraqi government, the blocking of Umm Qasr, which receives a vast bulk of imports of grain, vegetable oils and sugar shipments that feed a country heavily dependent on imported food, has cost Iraq more than $6 billion.
Demonstrators also prevented tankers from entering or leaving Nassiriya oil refinery on Wednesday, causing shortages in the south. According to oil sources, the refinery had recently been producing around half its capacity.
The protests are part of a movement that has brought tens of thousands of Iraqis to the streets to demonstrate against corruption and the poor state of public services.
The protests, which began more than a month ago, have often turned violent, with Iraqi security forces opening fire and protesters torching government buildings.
Iraq's PM urges end to street protestsIraq's Prime Minister Adil Abdul-Mahdi has called for an end to street protests.
On Monday, the Iraqi army warned that its forces will move in to break up any gathering outside Baghdad's Tahrir Square, emphasizing its determination to put an end to chaos in the streets.
On Sunday Iraqi Prime Minister Adel Abdul Mahdi called for markets, factories, schools and universities to reopen and appealed for an end to the protests that are hurting the Iraqi economy.
Last week, President Barham Salih said Abdul Mahdi was willing to resign once political leaders agreed on a replacement. He also called for a new election law and said he would approve early parliamentary polls once it was enacted.