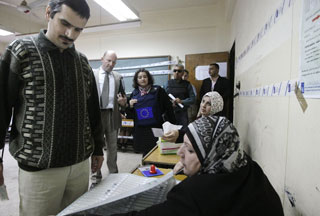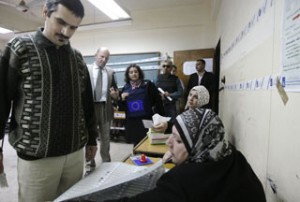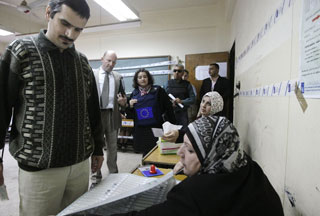 Iraqis have started casting their votes in parliamentary elections as several mortar blasts and bombs have struck the capital Baghdad since polling stations opened early Sunday morning.
Twelve people were killed and eight others wounded in a bomb that blow up a residential building in the city, an Interior ministry official said.
An earlier explosion at a Baghdad residential building killed at least four people.
At least 10 mortar blasts and four bombs hit Baghdad after voting centers opened at 7:00 am (0400 GMT), security officials said.
Four of the mortars landed in the capital's Green Zone, killing at least one person and wounding nine others, the official said.
Five other blasts have also struck voting stations in Baquba, 60 kilometers (37 miles) north of the capital.
The attacks came despite a massive security operation across the country to protect voters.
Some 200,000 Iraqi police and soldiers are on duty in Baghdad alone, and the country's borders and its airports have been shut for the day with all vehicles banned from the streets.
On Friday, Iraqi insurgents threatened to kill voters during the elections.
Iraqi Baathists, whose Saddam-linked party candidates were banned by the Iraqi authorities but backed by the US, as well as the anti-Shia al-Qaeda militants, are believed to be behind the bombing attacks during today's elections.
Almost 20 million voters are eligible to turn out for the elections, only the second vote for a full term of parliament since the 2003 US-led invasion.