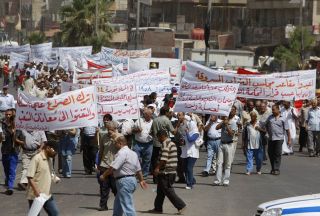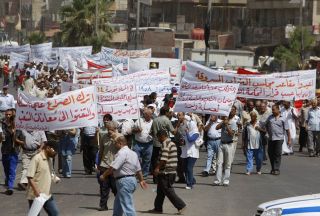 Iraq celebrates the 52nd anniversary of a revolution that toppled a monarchy in the country as calls grow for a government months after Iraq's parliamentary vote.
Waving national flags, hundreds of Iraqis marched in the streets of Baghdad to mark the July 14, 1958, revolution led by Abdul-Karim Qasim. The revolution overthrew the Hashemite monarchy established by King Faisal I in 1932 and resulted in the founding of the first Iraqi republic.
Qasim became the country's first prime minister but was overthrown by a Ba'athist-led coup on February 8, 1963, and was executed the following day.
The Iraqi government highly considers July 14 and declared it a national holiday in 2005, when a statue of Qasim was also erected in the heart of Baghdad.
Commemorating the anniversary, Iraqi President Jalal Talabani on Wednesday called on the Iraqi people to learn from the revolution and overcome religious, ethnic and partisan divisions.
This comes amid differences that have delayed the formation of a new coalition government since the March 7 elections that gave no party an upright victory.
Former Premier Iyad Allawi's al-Iraqiya alliance narrowly won the elections by taking 91 seats in the country's 325-member parliament — only two seats ahead of the State of Law coalition led by incumbent Prime Minister Nouri al-Maliki.
Concerns over the political and security gap in the country have hiked once again after the country postponed its second parliament session that was slated to begin Monday.
"There are still differences in points of views, so it is impossible to enter the parliament hall," acting parliament speaker Fouad Massoum said, the next session would be delayed for days, if not weeks, to give rival blocs more time to form a government.