Iraq
Iraqis Hold Pro-Maliki Protests in Babel Province, Sadr City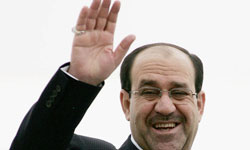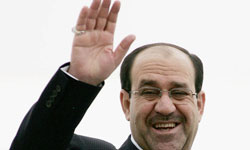 Hundreds of Iraqi people in Babel province and Sadr City in Baghdad's neighborhood took to the streets on Sunday in support of the policies and stances of Prime Minister Nouri al-Maliki.
In Babel demonstrators called on the Maliki's government to carry out the death verdicts issued by the court for the perpetrators of the recent terrorist explosions in their province, Al-Sumeria News Agency reported.
Meantime, hundreds of residents of Baghdad's Sadr City also supported the Iraqi premier and his last week call on Anbar protesters to end their protests after last month's arrest of Finance Minister Rafia al-Issawi's bodyguards.
On Wednesday, Maliki called upon Anbar protesters to end their demonstrations that have led to several days of blockage of a major road in the Western province of Anbar connecting Iraq to Syria and Jordan.
The Iraqi premier said the protesters should "end their strike before the state intervenes to end it."
"I warn you against continuing (blocking the highway), because this is against the Iraqi constitution. We have been very patient with you," the Lebanese Al-Manar television quoted Maliki as saying.
The protesters have blocked off the key trade highway since December 23, following the arrest of Finance Minister Rafia al-Issawi's bodyguards on terrorism charges.
The demonstrators allege that the arrests were made on sectarian grounds and demand the release of the detainees.
Maliki, however, says the bodyguards were arrested following an independent judicial inquiry based on the anti-terrorism law.