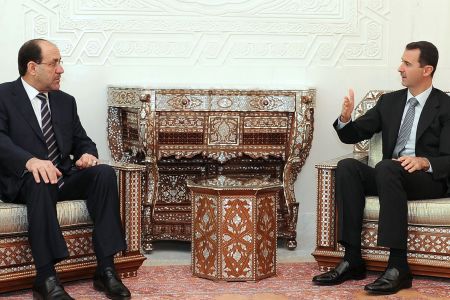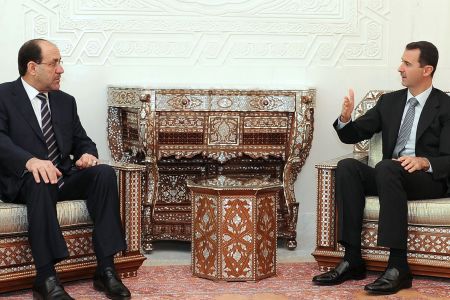 Iraqi Prime Minister Nouri al-Maliki has met with Syrian President Bashar al-Assad in Damascus to improve the strained relations between the two countries and strengthen security and stability in the region.
It was the first high-ranking meeting since the two countries withdrew their respective envoys from each other's capitals last year.
"This visit aims to improve relations in the political, economic and commercial sectors in the interests of both countries," Maliki's office said in a statement on Tuesday.
During the meeting, Maliki and Assad described the formation of a new government in Iraq an internal issue and went on to denounce other countries' interferences in Iraq's affairs.
"Our attitude about the formation of the government is clear: the solution must be Iraqi," Assad was quoted as saying, adding that "Iraq has a great history, no one can order it what to do, Iraqis own that decision."
However, Maliki's visit to Syria is widely seen as a bid to win regional support to remain in power. The visit came two weeks after his main rival for premiership, former Prime Minister Iyad Allawi, visited Damascus.
Maliki's Shia bloc is just four seats short of an absolute majority in the 325-seat Council of Representatives after gaining the support of Moqtada Sadr's Iraqi National Alliance which commands 40 seats in parliament. However, the bloc is in need of the support of Shia Supreme Iraqi Islamic Council, headed by Ammar al-Hakim, to form a new government.
Hakim, who has close ties with Syria, has opposed Maliki's candidacy for a second term in office.
Iraq's ambassador to Damascus resumed his duties on Sunday more than a year after Baghdad-Damascus ties were strained last year following massive truck bombings in Baghdad which left 101 people dead.
Maliki had accused Syria of hiding the bombers, a charge denied by Damascus.