Iraq
Middle East
Iraq's PM urges end to street protests, says unrest hurting economy
Iraq's Prime Minister Adil Abdul-Mahdi has called for an end to street protests, saying that they are paralyzing the country and costing the economy "billions of dollars."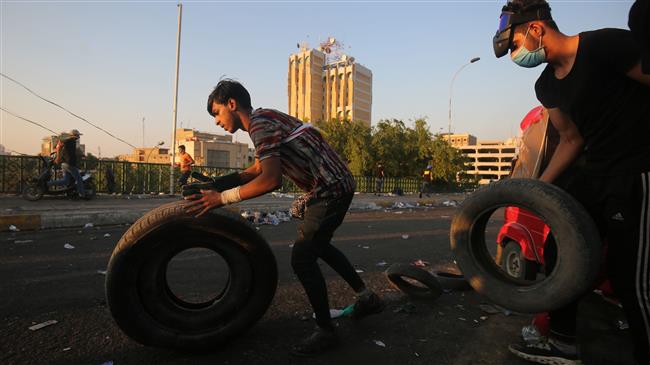 In a statement published on Sunday, Abdul-Mahdi said that "it is a month that office buildings, schools, universities and a significant portion of social life have been shut down" due to the protests.
"It is time for normalcy to be restored, for the markets to be opened and the factories, offices, schools and universities to resume operating," he said.
The Iraqi prime minister further explained that the protests have led to a halt in the activities of international and domestic investors who are leading development projects in the country.
He also said that the protests have caused a delay in the proposal of the country's 2020 budget.
The Iraqi prime minister's remarks came after demonstrators spilled out into the streets of the capital Baghdad and several other cities on Sunday as part of ongoing economic and anti-corruption protests in the country.
The demonstrators shut down streets, schools and government offices.
Consequently, Umm Qasr, Iraq's main port in the Persian Gulf, has been at a complete standstill due to protests since Wednesday. The port receives the bulk of Iraq's imports of grain, vegetable oils and sugar.
Speaking on Sunday, the Iraqi prime minster said that "threatening the oil interests and blocking roads leading to Iraq's ports is causing big losses exceeding billions of dollars."
He warned that the unrest was pushing up prices of goods.
Iraqi PM urges safety of protesters as unrest continuesThe Iraqi prime minister calls for measures that would ensure the safety of anti-government protesters.
Abdul Mahdi also expressed concern regarding high casualties both among protesters and security forces, adding that certain individuals were infiltrating the rallies in a bid to target the protesters and security forces.
More than 200 have been killed and thousands of others wounded since the protests erupted in early October, with security forces using tear gas and rubber bullets against those taking to the streets.
The Iraqi premier also lauded the rallies in a statement, saying that the demonstrations, which "shook the political system", have "achieved much of their objectives" in pushing the Iraqi establishment to "reconsider" its decisions and address the protesters' concerns.
Abdul-Mahdi said that he welcomed continued protests as an expression of "free speech" and change, but urged the protesters to avoid participating in non-permitted street protests and to convene in predesignated areas.