Iran
IRGC Aerospace Commander Stresses High Quality of Iran's Military Products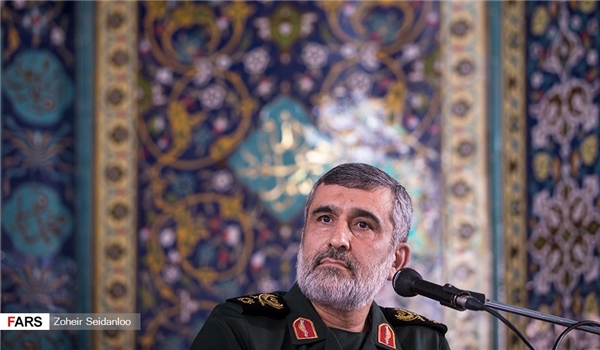 Commander of the Islamic Revolution Guards Corps Aerospace Force Brigadier General Amir Ali Hajizadeh underlined that the military products manufactured by Iranian experts enjoy higher quality than those made by even some world powers.
"The quality of our country's military products is better than China in all fields while their price is one third of the Chinese products and it is one of our country's big capacities," General Hajizadeh said, addressing a forum in the Northern city of Langeroud on Friday.
He also described Iran's missile industry as the symbol of success in the military field.
In relevant remarks in February, Iranian President Hassan Rouhani underlined that his country would continue its progress in defense and missile fields irrespective of the world powers' opposition and pressures.
"We do not and will not ask for anyone's permission for building different types of anti-armored missiles, different air defense missiles, different ground-to-ground, sea-to-sea missiles and different types of air-to-air missiles, and we will continue the same path and (increase our) military power," President Rouhani said.
He stressed that the growth and advancement of Iran's military power in the past 40 years had astounded the entire world, saying, "We have built missiles, fighter jets, helicopters, frigates, submarines, personnel-carriers, individual weapons and everything that our Armed Forces need and all of these have been amazing."
President Rouhani said that 85% of the military equipment, weapons and ammunition needed by the Iranian Armed Forces are manufactured domestically and by the country's experts.