Iran
Middle East
Technology
IRGC Aerospace Commander Stresses Iran's Tremendous Achievements in Space Industry
Islamic Revolution Guards Corps (IRGC) Aerospace Commander Brigadier General Amir Ali Hajizadeh praised Iran's rapid advancement aerospace industries, and said the country has made great achievements in the field.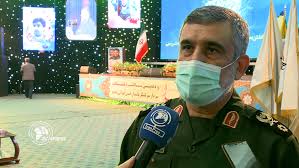 Brigadier General Hajizadeh said more than four decades of the hostility of the hegemonic powers towards Iran comes from their ill nature.
"Today even the enemies admit our deterrence defensive power," he noted.
The IRGC commander stated that capabilities and technologies developed in the military sector overflow into other industries.
"Today, in the exchanges with other industrial groups and sectors, and with the aim of indigenizing technology and ending the monopolies and problems caused by the cruel sanctions of the enemies, the overflow of technologies and capabilities in the defense sector is helping other fields and industries and has led to the removal of many problems," the senior commander continued.
Hajizadeh noted that this has been made possible through the close cooperation of the aerospace industries and university elite in technology parks.
The aerospace commander stated that "the space sector is extremely significant and a key ground for progress in other fields", stressing that "Iran is now advancing speedly in the field of aerospace industries".
"Today, thanks God, Iran is such capable in different missile, drone areas and so forth that the enemies do not even think of any aggression on the country," he said.
Recently, head of Iran's Space Organization Hassan Salarieh said that Tehran has plans for developing telecommunication satellites, adding that one of the spacecrafts under construction will be placed in high-altitude orbits in coming months.
It is the third military satellite Iran will put into orbit. The country launched its second satellite, dubbed Nour (Light)-2, into orbit in March 2022 and the first one in April 2020.
Iranian President Seyed Ebrahim Rayeesi has also stressed continued efforts to further advance space technology.
"The obtainment of this technology is among the manifestations of national might, which was made possible with the efforts of the Armed Forces – specially the Islamic Revolution Guards Corps and the Communications Ministry – and which must continue with greater force," he said in mid-March.