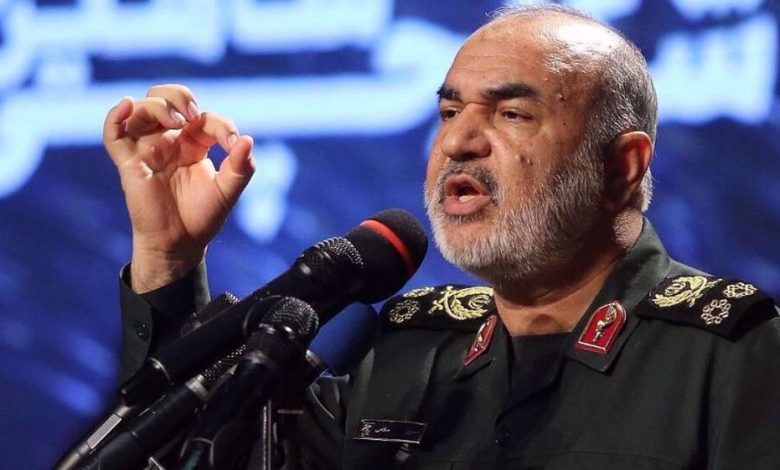 The chief commander of the Islamic Revolution Guards Corps (IRGC) has warned of a "reciprocal, decisive and strong" response to any action by the enemy against Iran, saying no threats would go unanswered.
Major General Hossein Salami made the remarks on Saturday during a visit to military units and equipment stationed on Abu Musa Island in the Persian Gulf.
Asked about Iran's reaction to any encroachment on its security and national interests, especially in the naval field, he replied, "We have demonstrated both in action and expression that we will respond to any action, taken by the enemy against us, with a reciprocal, decisive and strong blow."
"It has been proven many times that we would not let threats or acts of aggression go unanswered," he added.
Salami further said that the IRGC Navy has in recent years managed to make amazing achievements and boost its capabilities.
The IRGC Navy, he noted, is in possession of smart mines and has the ability to deal with hostile sub-surface vessels.
The elite force's manned or unmanned aircraft can destroy hostile targets deep inside the sea by dropping smart bombs on them, the IRGC chief commander said, stressing that the new generation of vertically-launched drones equipped on vessels are capable to operate at different ranges.
Elsewhere in his remarks, Salami said the three Persian Gulf islands of the Greater Tunb, the Lesser Tunb and Abu Musa are "inseparable components of our national independence, and our defensive front against trans-regional enemies."
He also described the defense and combat readiness at the trio of islands as reassuring, decisive, strong and unbreakable.
Additionally, Salami hailed the role played by top Iranian anti-terror commander Lieutenant
General Qassem Soleimani in countering the enemies of Islam.
"Haj Qassem brought about victory for all Muslims, foiled the enemies' plots in changing the political map of the Muslim world and inflicted defeats on the axis of the enemies of the Islamic Ummah, including the US and the Zionist regime, especially in the fight against Takfiri terrorism and Daesh," he underlined.
General Soleimani, the commander of the IRGC's Quds Force, and his Iraqi trenchmate Abu Mahdi al-Muhandis, the deputy head of the Popular Mobilization Units, were assassinated along with their companions in a US terror drone strike authorized by President Donald Trump near Baghdad International Airport on January 3 last year.