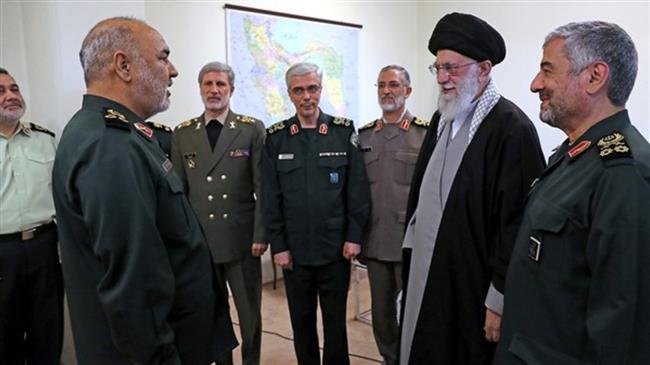 The chief commander of Iran's Islamic Revolution Guards Corps (IRGC) has thanked Leader of the Islamic Ummah and Oppressed People Imam Sayyed Ali Khamenei for the message in which the Leader lauded the elite defense force after the successful launch of the country's first military satellite.
On Wednesday, the IRGC successfully launched and placed Iran's first military satellite into the orbit, using a domestically-built satellite carrier through an operation in Iran's central desert.
Following the launch, which was made on the day when the elite military force marked the anniversary of its establishment on April 22, 1979, Supreme Leader expressed his gratitude towards the IRGC for its performance.
"Convey my regards to the IRGC personnel and their respectable families on the occasion of its founding anniversary," the Leader said in his message, adding, "I extend gratitude to them for their good performance and efforts. My prayers are with them."
On Thursday, Major General Hossein Salami issued a message to thank the Leader for his "inspiring and affectionate" missive, saying that the IRGC will spare no effort in its drive to guarantee that the Iranian nation "will hold its head high."
"I apprise [you] hereby [of the fact] that the IRGC has received [the Leader's] 'We must grow strong" message," General Salami stated. Upon the orbiter's launch, General Salami had likewise noted that the space achievement represented acknowledgement of the Leader's directive.
The IRGC would, accordingly, not waiver even for a moment in its cause to establish "the modern Islamic civilization" and will endeavor to realize "the Second Phase" of the country's Islamic Revolution by engaging in constant development of its strength and power.
Last February, Ayatollah Khamenei issued a statement detailing "the Second Phase" on the occasion of the 40th anniversary of the country's 1979 Islamic Revolution that toppled the United States-backed Pahlavi regime of the time.
In the statement, the Leader noted that the Revolution had guaranteed Iran's security, stability, and territorial integrity, stressing that the country must not back down from its national and revolutionary values.
IRGC resolved to depose hegemonic system
Further in his message, General Salami described the potential dismissal of US terrorists forces from the region and dissipation of its "delusion of grandeur" as a first step on the path of the world's oppressed and underprivileged people.
"We are death-defying protectors of this noble and morally-aware people and stewards of their Revolution," the commander stated.
The defense force would expend all that it has at its disposal to realize the Iranian nation's great ambitions, "including dissolution of the hegemonic system in the world and establishment of justice and spirituality worldwide," the IRGC's chief commander noted.
Owing to the Leader's "Qur'anic and sapient directions," Salami concluded, the freedom-seeking and disadvantaged people across the globe have by now become certain about the "rightfulness of [the practice of] resistance and its influence in deposing the hegemony."