Iran
IRGC Chief: No Iranian Willing to Talk with US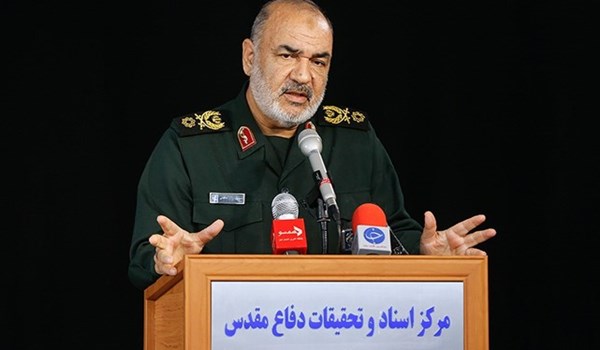 Commander of the Islamic Revolution Guards Corps (IRGC) Major General Hossein Salami said on Friday that no Iranian is going to hold talks with the US as negotiations are meant to serve the enemies' interests and nobody is after helping enemies to reach their goals.
In a meeting with the IRGC's staff of the ranks deployed in Bushehr Province today, Major General Salami said that Iran is the only country in the world that Washington believes holding talks with would restore the United States' damaged face, adding that, however, no Iranian official is willing to help the US to reach this goal.
He then added that Iranians have learnt that the solution to their problems is in resorting to the wills of the youth and not in talks with enemies.
Referring to the 12 pre-conditions of talks with Tehran announced by US Secretary of State Mike Pompeo, Salami asked, "Where are those 12 pre-conditions for talks now?"
"The US has shown that it is very smaller than how it projects itself in the psychological warfare," the commander asserted.
On Tuesday, Iranian President Hassan Rouhani addressed Members of Parliament in Tehran, and said that holding "bilateral" talks with the US is not on his government's agenda.
"We've said it before time and again, and we say it again: We have no intention to hold bilateral talks with the United States. We never did and never will. It has been the case in the past year and a half, and even in previous years. There have been calls for talks, but we never responded to them," Rouhani said.
Stressing that holding bilateral talks with the US is not on the table, Rouhani added, "We said that the US, as part of the 5+1, held talks with us and we took part in the talks. If the US lifts all of its sanctions against Iran, whether it returns to the JCPOA or not, it does not matter to us, but if it lifts all sanctions, it is still possible for the US to be part of the 5+1; granted that it first removes all sanctions."
"When we talk about negotiations, we only mean it under the situation where all sanctions have been lifted; that is, the situation we previously had under the JCPOA. Our stance is clear," he stressed.