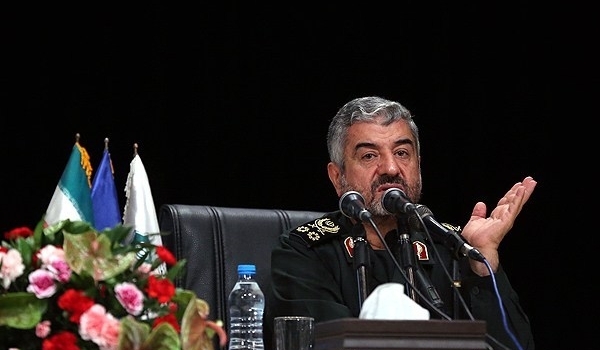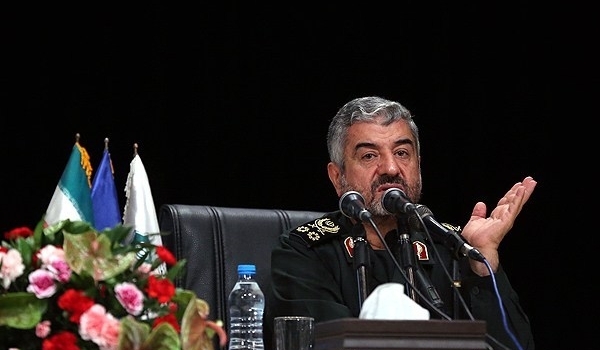 Commander of the Islamic Revolution Guards Corps Major General Mohammad Ali Jafari announced that 100,000 popular forces have been prepared in Syria to fight against the terrorist groups, highlighting martyred IRGC Commander Brigadier General Hossein Hamadani's role in mobilizing these troops.
"Martyred Brigadier General Hamadani played an important role in convincing the Syrian officials, including President Bashar al-Assad, of the importance of organizing people as the only way to save Syria," Jafari said in an interview with the state TV on Saturday.
"Today, we are witnessing the organization of 100,000 Syrian people to fight against insecurities and Brigadier General Hamadani played an effective role in this regard," he added.
In relevant remarks on Wednesday, Iranian Defense Minister Brigadier General Hossein Dehqan stressed that the country's military experts and advisors were taking preparatory actions that would end up in the complete annihilation of the Takfiri groups, including the ISIL terrorists, in Syria.
Dehqan made the remarks in a ceremony in Tehran to commemorate martyrdom of Brigadier General Hamadani, who was killed in Northern Syria on October 9.
He referred to the new joint operations plan of Iran, Syria, Iraq and Russia to destroy the ISIL, and said, "At present, we are witnessing start of new developments in Syria, thanks to the efforts and measures adopted by martyr Hamadani."
"God willing, these developments will pave the ground for the full annihilation of the Takfiri groups," Dehqan said.
General Hamadani was killed in Northern Syria while providing military counseling services to the Syrian forces in their fight against the Takfiri terrorists.
"Brigadier General Hamadani was martyred during an attack by the ISIL Takfiri terrorists in the outskirts of the city of Aleppo while fulfilling his duty as military advisor and defending the holy Shiite shrines in the country," the IRGC said in a statement on October 10.
General Hamadani was in Syria to render military advice to the Syrian army and popular forces in their fight against the ISIL terrorists in the Arab country.
In relevant remarks on Monday, Major General Jafari underlined that the terrorist groups in Syria would sustain great losses in coming days.
"We will witness great victories in Syria in the next few days," Jafari said.
Noting that the security of Western Asia, including Iran, is dependent on Syria and the resistance front, he said, "We should support this front with all our power."
Jafari also warned that the "arrogant powers in the region are after overthrowing the ruling system in Syria to extend their influence in the Muslim states".