Iran
IRGC Commander: Iran Determined to Increase Power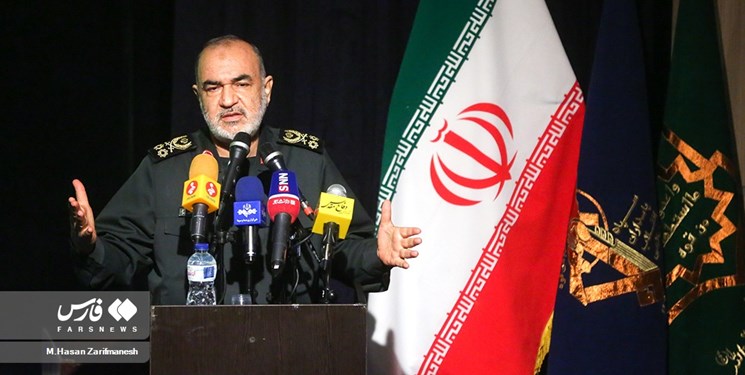 Commander of the Islamic Revolution Guards Corps (IRGC) Major General Hossein Salami underlined that despite enemies' attempts to prevent Iran's progress, the country has firmly decided to increase its power.
"Generating power is not a habit for us, but it is inspired by a strong strategy and follows a strategic logic, and the increase in power happens quite purposefully and intelligently," General Salami said on Saturday.
"Today, Iran is determined to expand its power on a daily basis, "he added.
General Salami said that Iran is increasing its might on a daily basis despite all the illegal sanctions because the Iranians have come to the understanding that the country should have the power if it wants to be independent
He emphasized that the Iranian nation wants to live freely, independently, and with dignity.
General Salami also stressed that Iran has always firmly defended the rights of the other deprived and impoverished nations in the region and helped them to prevent foreign powers take control over them.
In relevant remarks earlier this month, General Salami underlined Iran's unparalleled power on the international scene, saying that the Islamic Republic has managed to wear down the enemy.
"The enemy has instead resorted to economic warfare and sanctions against Iran," the IRGC commander said.
General Salami said that the military option against Iran is off the table, as the country has become too powerful to fall victim to foreign aggression.
"The Supreme Leader's vision was to wear down and undermine the enemy and this craft blocked the enemy's approach and removed every option from the enemy's table," he said while referring to Supreme Leader of the Islamic Revolution Ayatollah Seyed Ali Khamenei's recent remarks.
"The Islamic, Revolutionary Iran of today is powerful and any enemy knows that this territory is not occupiable…and now they have resorted to economic war and sanctions," General Salami added.