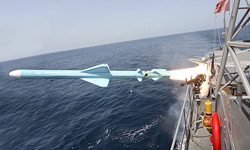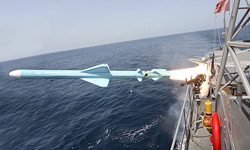 A senior commander of the Islamic Revolution Guards Corps (IRGC) announced that the Iranian Navy is showing its might and power to the world by developing and upgrading its equipment, tools and weapons.
"By renovating and optimizing Tondar missile-launching frigates by Iranian experts and delivering them to the IRGC Navy, we are displaying Iran's naval power to the world," Commander of the IRGC's Second Naval Zone Ali Razmjou told reporters in Iran's Southern port city of Bushehr on Wednesday.
He underlined that Tondar frigates will be deployed in the Central parts of the Persian Gulf (Assalouyeh) and its Northern parts (the IRGC's third naval zone) to reinvigorate the Islamic Republic of Iran's deterrence power.
Iranian Navy commanders have always stressed that the country's naval forces are capable of producing all the needed military equipments, including military vessels, submarines, torpedoes and naval missiles.
Iran in February inaugurated the production line of a newly unveiled naval cruise missile, called Zafar (Triumph).
The production line was inaugurated by Iranian Defense Minister Brigadier General Ahmad Vahidi in a ceremony at the Defense Ministry' Aerospace Industries Organization on the occasion of the Ten-Day Dawn ceremonies, celebrating the anniversary of the victory of the Islamic Revolution back in 1979.
During the ceremony, the first cargo of Zafar missiles was delivered to the IRGC.
Iran's naval power has even been acknowledged by foes. In a Sep. 11, 2008 report, the Washington Institute for the Near East Policy also said that in the two decades since the Iraqi imposed war on Iran, the Islamic Republic has excelled in naval capabilities and is able to wage unique asymmetric warfare against larger naval forces.
According to the report, Iran's Navy has been transformed into a highly motivated, well-equipped, and well-financed force and is effectively in control of the world's oil lifeline, the Strait of Hormuz.
The study says that if Washington takes military action against the Islamic Republic, the scale of Iran's response would likely be proportional to the scale of the damage inflicted on Iranian assets.