Iran
IRGC Commander: Iran's Military Drills Not Aimed at Regional States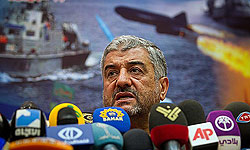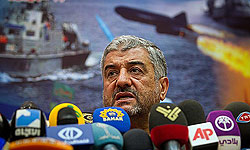 Commander of the Islamic Revolution Guards Corps (IRGC) Major General Mohammad Ali Jafari underlined that Iran's military drills serve defensive objectives and are not meant to direct any specific message to the country's neighbors.
"These wargames are for the Armed Forces' defensive and security preparedness and meant to be a demonstration of the Iranian nation's defensive and security power against enemies' threats," Jafari told reporters on the sidelines of a gathering of the veterans of Basij (volunteer) force.
"They (exercises) have nothing to do with the neighboring states," the IRGC commander underscored.
Iranian military commanders have always reiterated Tehran's commitment to the security of the Persian Gulf and the Strait of Hormuz, and cautioned that the military presence of the trans-regional states will only undermine the security of the strategic waterway.
Iranian officials have also frequently underlined the necessity for the establishment of security in the Persian Gulf through extensive and all-out cooperation among the regional states.
The remarks by Jafari came as the Iranian Navy is conducting a series of wargames in the country's Southern waters on Friday to test its capabilities in defending Iran's water borders and regional interests.
The wargames, codenamed 'The Great Naval Wargames of Velayat 91', will last 6 days and will cover around one million square kilometers from the Strait of Hormuz to the waters up to the 18-degree latitude.
Iranian Navy Commander Rear Admiral Habibollah Sayyari told reporters on Friday that the naval drills will be carried out in the Strait of Hormuz, the Sea of Oman, north of the Indian Ocean, the Gulf of Aden and Bab-el-Mandeb Strait.