Iran
IRGC Commander: Iran's Strategic Borders Stretched to Eastern Mediterranean, North Africa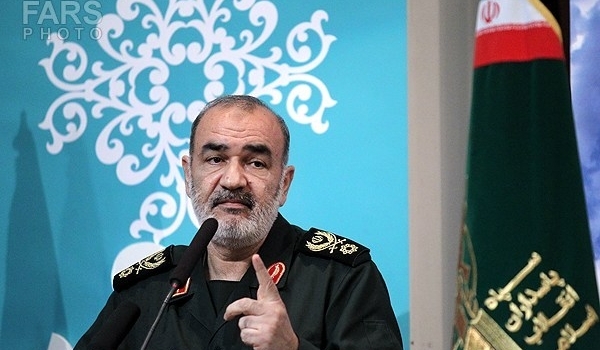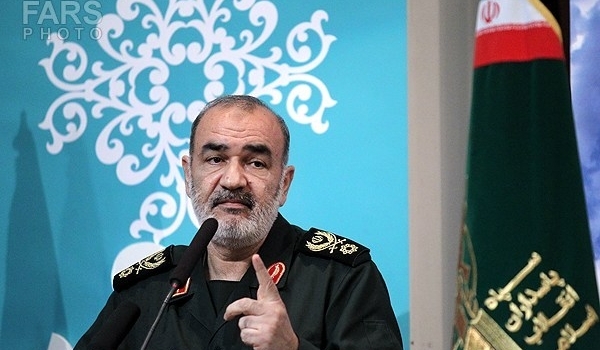 Lieutenant Commander of the Islamic Revolution Guards Corps (IRGC) Brigadier General Hossein Salami announced that Iran is now fighting the enemies at its strategic borders which have been stretched to the Eastern Mediterranean and North Africa.
"ٌWhile, one day, our nation was fighting the enemy at borders of Karkheh river (in Khouzestan province, Southwestern Iran), now it has expanded its strategic borders in this fight against enemies to the East of the Mediterranean and North of Africa," Salami said, addressing Basiji (volunteer) forces in the Central province of Isfahan on Wednesday.
"The Islamic Revolution is spreading and the Basiji way of thinking has made the arrogant power face with a deadlock and a landmark historical defeat and failure," he added.
In relevant remarks last Wednesday, Salami underlined Iran's military capabilities, and said the country had grown so powerful that it could target all enemies' vital interests throughout the region.
"Iran is more powerful than any other time and our defense power against the enemies cannot be compared to the past," Salami said, addressing Basij (volunteer) force commanders in the Northeastern city of Mashhad.
"The expansion of Iran's military power has raced up and is now making progress at a high speed, meaning that today, we are able to hit all the vital interests of the enemies at any point in the region," he added.
Salami referred to Iran's progress in building different military weapons and tools, including drones, radars, missiles, air defense and radar-evading planes, and said, "Iran is the center of regional stability and security and the security of the world energy and regional and international shipping and trade in the Persian Gulf and the Sea of Oman is in the hands of Iran."
Also earlier this month, Salami underlined enemies' failure in implementing their different plots against Iran, and said the country was growing into a world power.
"Today, the regional Iran is turning into a global Iran," Salami said, addressing the Armed Forces officials in Tehran.
Stressing that the power balance had changed in Iran's interest by the important events which had happened in recent years, he said, "Iran's strategies gave us access to the enemy in the region and when the enemy entered our operational zone, its weak points became more obvious."
Salami said that the enemy wanted to cripple the Iranian society through sanctions, decrease the country's regional clout by political isolation and vacate the Iranian society and the Islamic Republic's energy by internal seditions but Tehran made their plots fall flat through understanding their strategies.