Iran
IRGC Commander Stresses Abundance of Effective Domestically-Manufactured Arms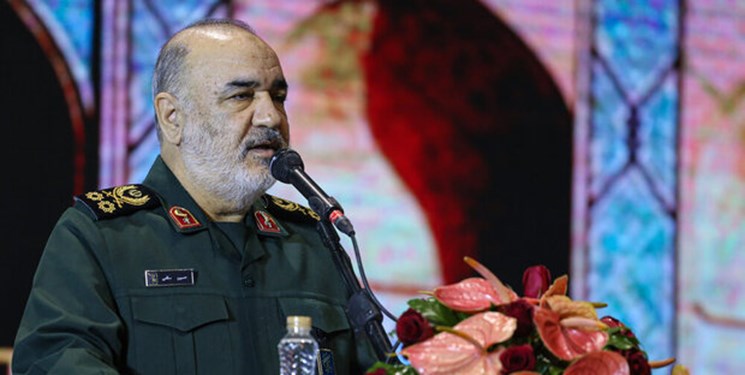 Commander of the Islamic Revolution Guards Corps IRGC Major General Hossein Salami underlined that Iran has enough effective weapons manufactured by utilizing its indigenous know-how and knowledge.
Major General Salami made the comments at the unveiling ceremony of two new missile and UAV bases of the IRGC Aerospace on Saturday.
He lauded the IRGC Air Force for its achievements in the field of producing domestically-made deterrence and defensive weapons.
Major General Salami pointed out that faith and the will of Iranian troops matter more on the battlefield than the weapons while adding that Iran has enough effective weapons manufactured with indigenous knowledge.
Earlier on Saturday, the IRGC Aerospace Force unveiled two missile and drone bases.
The tunnel bases, built in the heart of high mountains, are home to surface-to-surface missile systems with advanced equipment, as well as offensive drones which are able to penetrate the enemy's radar and defense network systems.
UAVs with a range of 2,000 kilometers, dual-missile launchers and Multiple-UAV launchers are present at these bases.
IRGC Aerospace Force Commander Brigadier General Amir Ali Hajizadeh briefed on the salient measures taken and new achievements of the IRGC Aerospace Force.
This is the first time that IRGC Aerospace Force unveils an underground missile and UAV base.
In a relevant development in mid-February, the Iranian Defense Ministry unveiled several upgraded missiles, defense systems and other military equipment in a ceremony participated by Defense Minister Brigadier General Mohammad Reza Ashtiani.
The unveiled weapons and military equipment included various types of surface-to-air missiles, helicopter carriers, UAVs with various specifications and coordinates to suit the defense requirements, as well as artillery and mortars' long-range smart ammunition with precision-striking power.
Increased range and accuracy in the destruction of targets is one of their main specifications.
Also in mid-February, the Iranian Defense Ministry had also unveiled two home-made state-of-the-art and sophisticated drones.
The achievements of Aviation Industries Organization of the defense ministry in building drones were unveiled in the presence of General Ashtiani.
Two new advanced and sophisticated drones joined Armed Forces on Saturday in the presence of General Ashtiani, Deputy Defense Minister and Head of Iran Aviation Industries Organization (IAIO) Brigadier General Afshin Khajeh Fard and a number of other senior officials of the Armed Forces.
"Undoubtedly, drone industry is considered as one of the outstanding and reliable points in increasing authority and defense power of the Islamic Republic of Iran," General Ashtiani said during his visit to the Exhibition of Achievements of Aviation Industries Organization.
He referred to the global trends and regional conflicts and also different generations of weapons and combat equipment, and said, "Today, the role of drones is undeniable in battlefield, war, various intelligence and operational missions including surveillance, optical and signal reconnaissance, combat, etc. and this strategic product is one of the main systems in all scenes of land, air, sea combat."