Iran
Middle East
IRGC Commander: Trans-Regional States Danger to Persian Gulf Security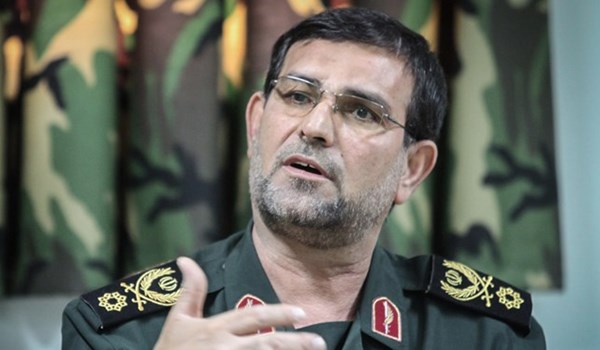 Commander of the Islamic Revolution Guards Corps (IRGC) Navy Rear Admiral Alireza Tangsiri stressed that all vessels voyaging in the Persian Gulf are monitored by the Iranian naval forces, adding that the trans-regional states endanger the security of the region.
"The IRGC Navy controls and monitors the foreign vessels which enter the Persian Gulf and questions them about their nationality, type of the vessel and their destination, and all vessels belonging to different states, including the US, have always responded to the IRGC Navy's [control] questions," Rear Admiral Tangsiri said on Sunday.
"The presence of trans-regional countries endangers the region but our message is that peace and friendship in the region are established only by the regional states," he added.
Rear Admiral Tangsiri, meantime, said that deployment of the Iranian vessels in the Persian Gulf and the waters beyond the region brings the message of peace and friendship to the neighboring states.
Rear Admiral Tangsiri had also warned in August that deployment of foreign warships and submarines equipped with nuclear propulsion systems posed a danger to the safety of the regional people's drinking water.
"The Persian Gulf covers an area of 250,000km and is an enclosed gulf. If one of these warships or submarines which are powered by nuclear fuel faces a problem, the countries on the Southern rims of the Persian Gulf and our Muslim neighbors which use desalination systems will have no water to drink and if an accident happens in the Persian Gulf, they will die of thirst," Rear Admiral Tangsiri said, addressing a forum in Tehran.
He described the presence of trans-regional states in the region as a source of insecurity and instability, stressing that the Iranian Naval forces and the IRGC Navy have established security in the Persian Gulf, the Sea of Oman and the Indian Ocean.
"We believe that the 7+1 can establish security in the Persian Gulf; the 7 countries on the Southern rims of the Persian Gulf plus Iran which has the lengthiest sea border in the Persian Gulf can help the establishment of sustainable security in the region," Rear Admiral Tangsiri said.