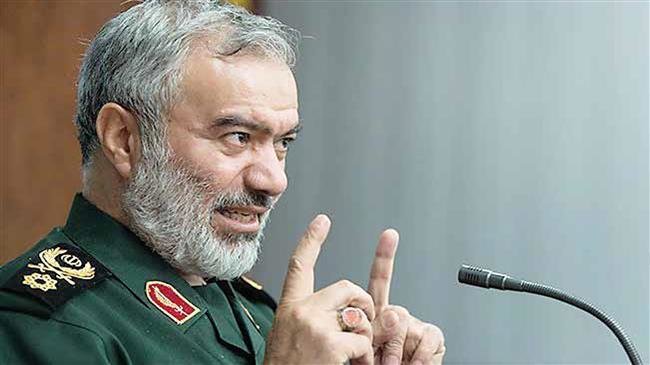 Islamic Revolution Guards Corps Deputy Commander for Coordination Rear Admiral Ali Fadavi said on Friday that recent military drill staged by the IRGC in southern Iran made the Zionist regime realize that it is absolutely out of question to take any military action against Tehran.
In an address to the Friday prayers worshipers in Tehran, Fadavi said the Israeli enemy has been frustrated by the power of Iran.
The commander said the Israeli regime has realized that it is unable to do anything against Iran as the Americans have failed to do anything 43 years after the victory of the Islamic Revolution.
"Like a powerless, the Americans have now resorted to methods for the battle with the Islamic Revolution that reveal their frustration," Fadavi said, as quoted by Tasnim news agency.
In remarks in November, IRGC Commander Major General Hossein Salami ruled out the possibility of a war against Iran, saying the enemy has become disappointed with military action on the Islamic Republic.