Iran
Middle East
IRGC Disbands Terrorist Team in Western Iran
The Islamic Revolution Guards Corps (IRGC) dismantled a foreign-sponsored terrorist team in the Western city of Javanroud, killing at least five terrorists.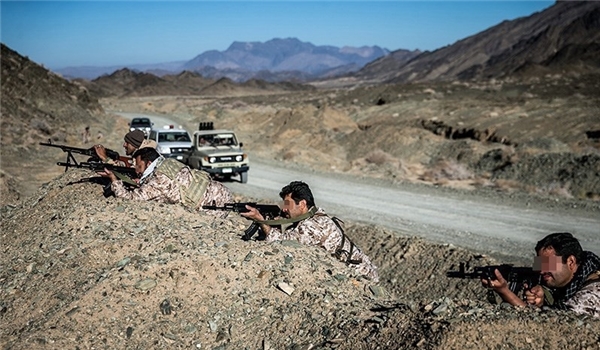 The terrorist team affiliated to the global arrogance planned to infiltrate into Iran to perform sabotage operations, the public relations office of the IRGC's Najaf Ashraf Base said in a statement on Thursday.
A statement by the IRGC Ground Force Public Relations later said five terrorists have been killed in the clashes, adding that the corpses of the dead are with the IRGC.
The members of the terrorist team were arrested after a conflict in Javanroud in the Western Iranian province of Kermanshah, it added.
The Iranian forces also found a large number of weapons and communications equipment from the terrorists, the statement said, adding that one of the IRGC base's forces was martyred in the conflict.
In a relevant development earlier this month, the IRGC's Hamzeh Seyyed al-Shuhada unit had disbanded a team of terrorists in the Northwestern province of West Azarbaijan, killing two of its members.
The terrorists were ambushed as they were trying to infiltrate the country from the province's Chaldoran county, the IRGC said in a statement.
Two terrorists were killed in the clashes and several others were wounded, the statement added.
It also said two IRGC servicemen lost their lives during the operation and a considerable amount of weapons, ammunition and communication equipment were seized.