Iran
Middle East
IRGC: Iran's Resolve, Defense Capabilities to Fight Off Threats Displayed by US Drone Shotdown
Islamic Revolution Guards Corps Deputy Commander for Political Affairs Brigadier General Yadollah Javani underlined that downing of an intruder US spy drone over the Iranian territories showed the country's determination and capabilities to confront threats.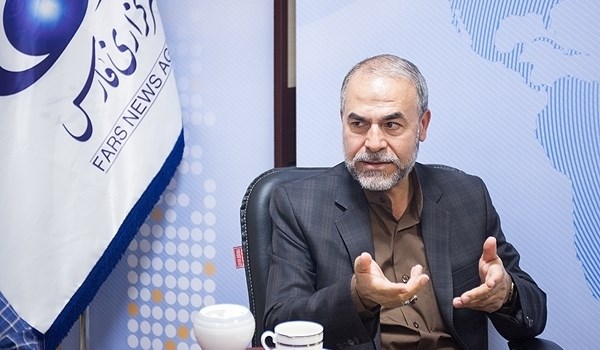 "Two highly important messages were sent to the world by downing the ultra-modern US drone; first, the Islamic Republic enjoys the resolve to confront any threat; second, the Islamic Republic of Iran enjoys the power to hit the enemies effectively in addition to its resolve," General Javani said, addressing a gathering in the Southern city of Bandar Abbas on Wednesday afternoon.
He underlined that many experts believe that Iran won the war of wills by downing the expensive US drone and Washington's incapability to reciprocate the move.
Iran's air defense units intercepted an intruder US Navy spy drone, MQ4-C Triton, over Iran's territorial waters on June 20.
The IRGC shot down a US Navy's Northrop Grumman MQ4-C Triton drone that had entered Iranian airspace in the Gulf of Oman to gather intelligence on June 20, using indigenous Sevvom Khordad surface-to-air missile system.
The United States had confirmed that one of its reconnaissance planes was shot down by Iranian air defenses, but denied that it intruded into Tehran's airspace at the time.
Commander of the IRGC Aerospace Force Brigadier General Amir Ali Hajizadeh said that his forces could have also shot down a US P8 aircraft with 35 on board which was violating Iran's airspace, but decided to shoot down the drone to only send a message to Washington.
"We intended to send a message to American terrorists in the region," Brigadier General Hajizadeh said on June 21, adding that his forces had also traced a military P8 aircraft violating the airspace of Iran.
"Along with the American drone was an American P8 aircraft with 35 on board, and it was also violating our airspace and we could have downed it too," he said, adding, "But we did not do (shoot down) it, because our aim was to warn the terrorist forces of the US."