Iran
Middle East
IRGC Navy Commander Warns Enemies against Violation of Iranian Waters
Commander of the Islamic Revolution Guards Corps (IRGC) Navy Rear Admiral Alireza Tangsiri warned enemies that the Iranian naval forces are fully ready to block their entry into Iran's territorial waters.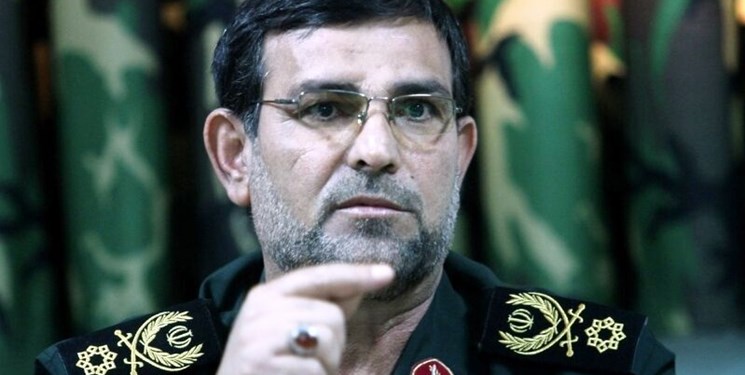 The Naval forces have vowed not to allow enemies to enter or violate Iran's territorial waters, Rear Admiral Tangsiri said, addressing a local ceremony held in Southwestern city of Abadan.
Referring to the recent encounter between Iranian and US forces in Iran's Southern waters, he said that the IRGC naval forces stood against two US ships with (only) 3 boats to prevent them from stealing the country's oil.
In relevant remarks on Sunday, Rear Admiral Tangsiri underlined that Iranian forces had slapped the Americans 9 times during confrontations in the Persian Gulf, including six in the past 18 months.
Rear Admiral Tangsiri made the remarks at a gathering of Basij students at the former US embassy compound in Tehran while referring to the period since the US assassination of Iran's anti-terror commander Lieutenant General Qassem Soleimani in Baghdad.
The admiral said the IRGC Navy has sustained 9 deaths in confrontations against the US in the Persian Gulf, "and thanks God, we have given them 9 unforgettable slaps, that is one for each of our martyrs that has lost his life in direct battle against the Americans, some of which have not been revealed to the media for certain considerations".
"They have come to realize the Islamic Republic's superiority in the sea," he added.
The IRGC Navy commander also pointed out that six of these defeats have been sustained by the Americans in one and a half years.
He cited the IRGC Navy's intervention last month to prevent US forces from stealing an Iranian oil cargo in the Sea of Oman in a dramatic operation that involved Iranian forces rappelling to the ship's deck, calling it the latest slap.
"The tanker was carrying Iranian oil, but with the support of the Americans, it was refusing to deliver its cargo to our country; of course, this was the second ship we confiscated and the previous one was not reported," the IRGC Navy commander pointed out.
Six Iranian speed boats and two vessels were then dispatched to the scene, warning away a US helicopter which fired chaff as it fled, thinking it might be targeted by Iranian missiles, Admiral Tangsiri said.