Iran
IRGC receives large numbers of surface-to-surface missile launcher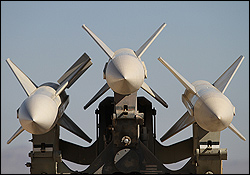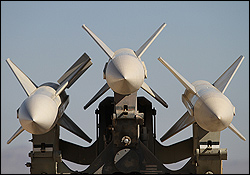 Iranian Defense Ministry has delivered large numbers of surface-to-surface missile launcher platform to IRGC Aerospace Forces.
The delivery of this number of launchers carried out during a ceremony today where Gen. Ahmad Vahidi, Minister of Defense and Gen. Amir Ali Hajizadeh, commander of IRGC Aerospace Forces. The platforms have been manufactured by the Aerospace Industries of the Ministry of Defense.
Defense Minister pointed out that large-scale delivery of launcher platforms was indicative of Islamic Republic of Iran's self-sufficiency in design and manufacture of strategic systems. "It also indicated Islamic Republic of Iran's high power and missile firing capability, which would launch large number of missiles and target the enemy in critical time of threat," he said.
Vahidi also pointed to the Islamic Republic of Iran's power in dealing with the enemies as only 'part of the defense might of the country,' adding that "all these capabilities are intended to protecting peace and effective containment."
He emphasized that " today, the Ministry of Defense has been designing and manufacturing different types of military weapons and systems in aerospace, marine, ground, electronic, and optic fields domestically through three strategic axes of 'self-confidence,' 'hard working,' 'and 'self-sufficiency.'
"This high capability and advanced technology along with strong faith, courage, and operational preparations of the armed forces, has worked out significant preparation such that we can now claim that currently, Islamic Republic's operation-fighting capability is far beyond that in the eve of the Imposed War," Vahidi added.
He expressed his thanks to the valiant experts of the Aerospace Industries of the Defense Ministry and those of IRGC. "Islamic Iran is not a belligerent state, and will not start a war with any country, but still would not allow any country to attack Iran, and would demolish the enemy, making it regret its action," he emphasized.