Iraq
Iran
Middle East
IRGC Spokesman: Iran Not to Tolerate Zionist 'israeli' Bases in Region
Spokesman of the Islamic Revolution Guards Corps (IRGC) Brigadier General Ramezan Sharif said that Iran will never bear deployment of Israeli forces in bases near Iran.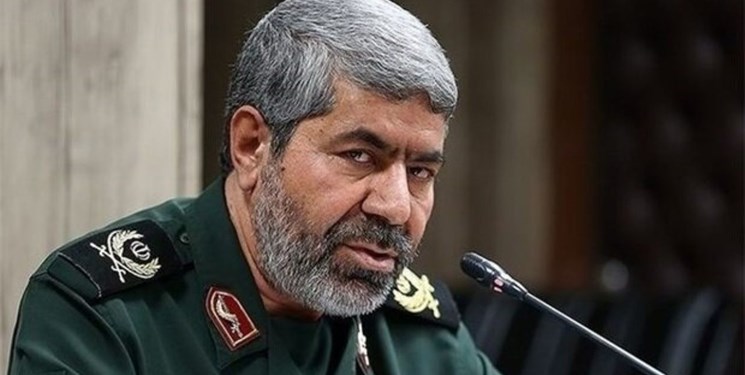 The Zionists have officially announced everywhere that they are against Islamic Republic's interests, General Sharif said.
They've said that they seriously follow assassination of "our figures" and identification of "our bases", he stated, adding that in order to preserve its security and national interests, Iran does not stand their bases near "our land".
If assured of any evil act by the Zionists anywhere, the Islamic Republic of Iran will repeat its previous crushing responses, General Sharif warned.
"We'll never budge an inch on people's rights," he underlined.
In relevant remarks in March, IRGC Commander Major General Hossein Salami warned the Persian Gulf Arab states against the threat that Israeli presence poses to the security of the region.
"Unfortunately, some regimes to the south of the Persian Gulf have established political and security relations with the Zionist regime, which poses a serious threat to the security of the region and especially those regimes," General Salami said while referring to the security situation in the Persian Gulf region, the Strait of Hormuz and the Sea of ​​Oman.
"We explicitly declare and warn that the continuation of such relations are not acceptable at all, and they should know that the existence of the evil Zionist regime everywhere is a cause of insecurity," he added.
Also in March, General Salami had warned Israel that repetition of its mischiefs against Iran will be retaliated crushingly.
Iran will retaliate because Iranians will not accept terrorism against their forces; so, retaliation is a real and serious message, General Salami said, addressing a ceremony in the Southwestern city of Dezfoul in Khuzestan province.
He warned the Zionist regime on the consequences of their constant miscalculations, urging them to stop evil acts.