Iran
IRGC Stages Naval Drills in South Pars Gas Field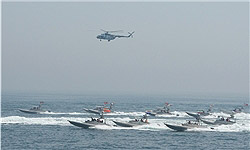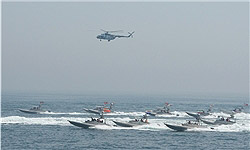 The Islamic Revolution Guards Corps (IRGC) on Tuesday launched a series of naval wargames in the South Pars Energy Zone in the Persian Gulf, where the world's largest natural gas reservoir shared by Iran and Qatar is placed.
The wargames, dubbed 'Fajr 91', will last for four days in Iran's territorial waters in Assalouyeh region.
The South Pars gas field covers an area of 9,700 square kilometers, 3,700 square kilometers of which are in Iran's territorial waters in the Persian Gulf. The remaining 6,000 square kilometers, i.e. the North Dome, are in Qatar's territorial waters.
The South Pars gas field holds 8 percent of total gas reserves of the world and half of the country's proven gas reserves as well as is the host of the most important industrial complexes of the country and the most important part of oil industry's value chain.
On the first day of the naval drills, different IRGC coast guard, missile, electronic warfare and marine units displayed their combat and defense capabilities in the wargame region.
Commander of IRGC's Fourth Naval Zone Admiral Alireza Nasseri told FNA that the wargames aim to boost the preparedness of the IRGC Navy's different units.
"We have the lengthy sea borders in the Northern and Southern parts of the country, and defending these boundaries has requirements, including exercises, active presence in the sea and gaining defensive preparedness against potential threats," Admiral Nasseri said.
IRGC Lieutenant Commander Brigadier General Hossein Salami, IRGC Deputy Commander for Operations Mehdi Rabbani and Lieutenant Commander of the IRGC Navy General Alireza Tangsiri supervise Fajr 91 naval wargames.
Last week, IRGC Navy Commander Rear Admiral Ali Fadavi announced that the IRGC plans to hold naval wargames in the strategic Strait of Hormuz in the next few months.
"We will hold drills in the Strait of Hormuz by the end of this (Iranian) year (ends on March 20)," Fadavi told reporters on the sidelines of a conference on security of the Persian Gulf and the Strait of Hormuz in Tehran last Monday.
It is not clear if Admiral Fadavi meant Fajr 91 exercises or another wargame.
He further noted the major role of drills in the IRGC's military doctrine, and said every year the IRGC stages at least one declared naval wargame and a number of undeclared exercises.