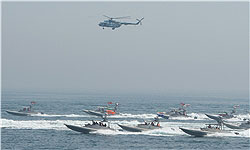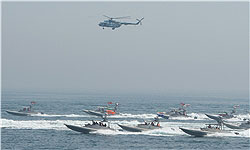 The Islamic Revolution Guards Corps (IRGC) on Wednesday started a series of wargames in the Persian Gulf on Wednesday to exercise different tactics of naval defense.
The 3-day naval wargames, codenamed Fath 91, are underway in the IRGC's third naval zone in the Central parts of the Persian Gulf (Assalouyeh) and its Northern parts.
The IRGC naval forces will carry out different defensive operational tactics based on asymmetric warfare for times of crisis.
They will also carry out coordination tactics among units and test the capability of the IRGC's naval, missile and marine units.
Meantime, Commander of the IRGC's 3rd Naval Zone Admiral Bakhtiyarvand stressed the IRGC's high combat capabilities and preparedness, and noted that the military force "has drawn its defensive plans based on the worst case scenario".
The Iranian Navy finished 6 days of massive naval exercises, codenamed Velayat 91, in the country's Southern waters early this month.
Speaking to FNA at the time, Spokesman of the Wargames Rear Admiral Amir Rastegari said the Iranian naval forces successfully achieved their planned objectives during the wargames.
'The Great Naval Wargames of Velayat 91' which covered around one million square kilometers from the Strait of Hormuz to the waters up to the 18-degree latitude.
The naval drills were carried out in the Strait of Hormuz, the Sea of Oman, North of the Indian Ocean, the Gulf of Aden and Bab-el-Mandeb Strait.
During the exercises, the Navy test-fired various types of long-range missiles from coasts and navy vessels.
Different types of short and long-range coast-to-sea, surface-to-surface, surface-to-air missiles were also tested by Iranian troops and vessels. Iranian submarines also launched smart torpedoes during the drills.