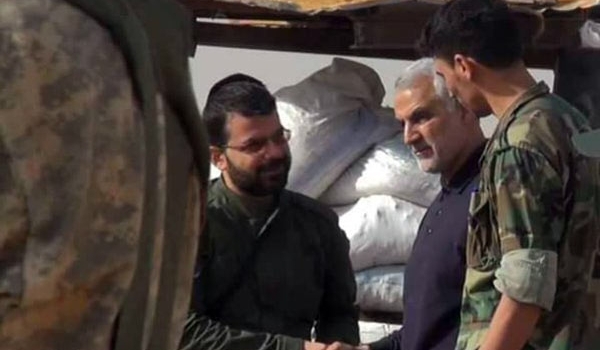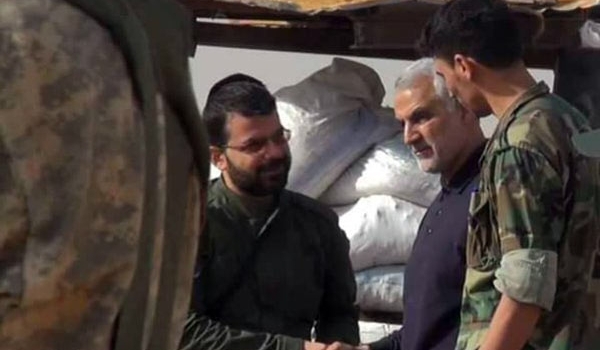 The Islamic Revolution Guards Corps strongly rejected rumors spread by the terrorist groups about IRGC Quds Force Commander Major General Qassem Soleimani being wounded in Syria, stressing that the senior commander is safe and sound.
"Brigadier General Qassem Soleimani is fully healthy and is assisting the Islamic resistance in Syria and Iraq to fight against the Takfiri terrorists spiritedly and fully energetically and powerfully," IRGC public relations Director General Ramezan Sharif said on Tuesday.
"The reports on his injury are sheer lies to affect the public opinion and the resistance front," he added.
The General underlined that such rumors are spread by the terrorists and their allied Israeli media in a bid to undermine the spirit of the Syrian troops and their allies specially after their recent groundbreaking victories in Syria's Northern Aleppo and Lattakia provinces and to divert the public opinion from such crucial achievements in the battlefields in Syria and Iraq.
The rumors came less than two weeks after they claimed earlier this month that they had killed Iranian Qods chief, the commander of Iranian forces in Iraq and Syria, Gen. Qassem Soleiman, in the fighting East of Aleppo. Their claim was strongly rejected by a well-placed source in the Iranian IRGC as "ridiculous", stressing that "the brave commander is alive and safe".
"General Soleimani is alive and safe," the source told FNA English after terrorist groups and an Israeli website claimed that the Iranian major general has been killed in Aleppo in Northern Syria.
"Such rumors have been spread by the terrorists due to the heavy blows that they have received from the Syrian forces led by the Iranian military advisors in different parts of Syria in the past two months and given General Soleimani's key role in their defeats," he added.
The source declined to mention where General Soleimani is stationed now, and stressed, "His whereabouts is always a top secret and only his team and a few top commanders who stand atop the chain of command know his real-time location."
"There is a very strict security protocol and a Standard Operational Procedure (SOP) to contact him, and his location is only known by very few people atop the chain of the command, who are responsible for coordinating the war on terrorism," he said.
"There is also a level two who come to know controlled information about him only after three days. These commanders come to be informed of such sensitive information during briefings and debriefings," the source told FNA.
"These tight security protocols are there for his security and due to the secret nature of his mission," he said. "Gen. Soleimani is not a commander in the battlefield who could be hunted. His case is totally different from martyr General Hamadani. He is the liaison of all fronts to coordinate war in Iraq and Syria and no wise person would ever send such a top leader to small battlefields."
"The terrorists and their Zionist backers spread such rumors for two reasons," he explained, "first, to lower the morale of the resistance and Syrian forces, and second, to find a chance to trace his location through a scrutiny of our responses."
"These blind rumors are ridiculous and lead to nowhere," he said, and reiterated, "The Iranian general is alive and in a regional country."
"To ensure you that such reports are totally false and unfounded, I let you know that General Soleimani was in the holy city of Karbala in Southern Iraq and doing a pilgrimage at the holy shrine of Imam Hossein (AS) in the last few days," said the source.
He also declined to confirm the date of a picture released by one of General Soleimani's fans captioned as "General Soleimani in Aleppo Operations Room Yesterday", and said, "General Soleimani changes place every hour."
"Those loving him and admiring him should know that from now on the Israeli and western media outlets start releasing rumors about General Soleimani's health every other day for the two reasons that I have just explained," he added.