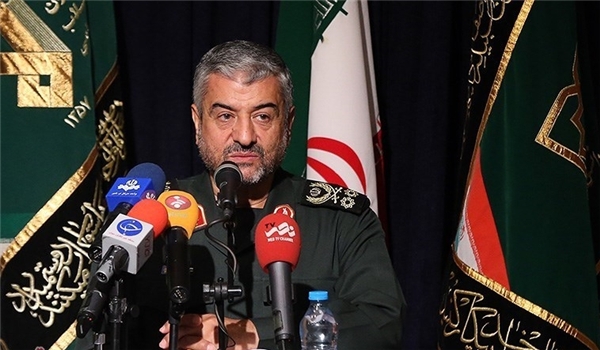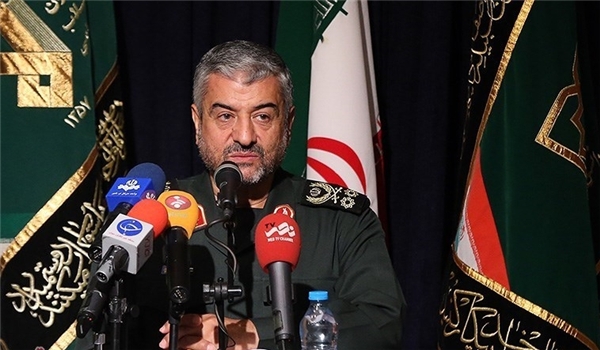 Commander of the Islamic Revolution Guards Corps (IRGC) Major General Mohammad Ali Jafari called on Iranian officials to stop being conservative in their stances and remarks on Saudi America and show tougher stance on the country for its growingly hostile approach towards Iran.
"Today, the traitor Saudi Arabia has exactly followed in the footsteps of Israel and the Zionists. At present, the opponents of the Islamic Revolution came to be better known every day and they can no more hide themselves behind the mask of hypocrisy," Jafari said, addressing a science festival in Tehran on Monday.
"Today, Saudi Arabia is indecently and shamelessly bombing and massacring a nation that is seeking to deny a hegemonic system," he added.
He said Islamic Republic officials showed a conservative attitude towards Saudi Arabia due to certain considerations in the past, "but now that these attacks have been waged, these considerations and reservations should be ruptured."
"Today the Al-Saud is exposed to collapse and demise," the IRGC top commander underscored.
Saudi Arabia has been pounding Yemen for 33 consecutive days now.
Riyadh launched its bombing campaign against Yemen on March 26 in an attempt to restore power to fugitive President Mansour Hadi, a staunch ally of the Saudi regime.
Hadi stepped down in January and refused to reconsider the decision despite calls by Ansarullah revolutionaries of the Houthi movement.
The Saudi attacks have so far claimed the lives of at least 3,010 civilians, mostly women and children. Riyadh claims that it is bombing the positions of the Ansarullah fighters, while Saudi warplanes are flattening residential areas and civilian infrastructures.
On Tuesday and after four weeks of bombings, Riyadh declared end to military operations in Yemen, but Saudi warplanes are still bombing residential areas across the war-ravaged nation one week after.