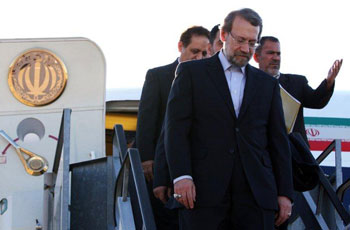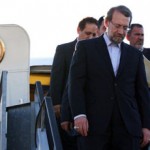 The IRI Parliament Speaker arrived at Baghdad International Airport and urged promoting parliamentary cooperation between the two countries as the main purpose of his visit.
Ali Larijani was received by Faleh al-Fayadh the chair of Iran-Iraq Parliamentary Friendship Group.
Larijani said he was intended to elevate political, cultural, and economic relations between Iran and Iraq through the two countries' parliamentary cooperation.
IRIB correspodent in Iraq reported that Larijani is to visit Iraqi President, Prime Minister and his Iraqi counterpart Ayad al-Samarraie as well as other Iraqi officials.
Larijani in the four-day visit is accompanied by eight MPs, deputy Foreign Minister, Hasan Qashqavi, advisor to speaker, Hussein Sheikholeslam and representatives from other ministries.
The Iranian delegation is planning to sign MOUs on inter-parliamentary cooperation as well as visiting holy cities in Iraq, IRIB reported.