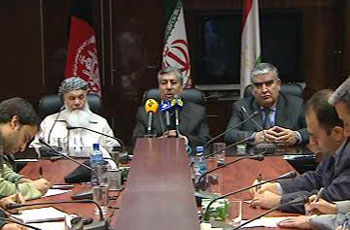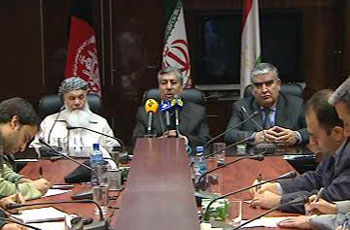 Energy Ministers of Iran, Tajikistan and Afghanistan held a tripartite meeting here Sunday to discuss ways to improve trilateral cooperation in the field of energy.
Speaking in the meeting Energy Minister of Afghanistan Mohammad Ismail Khan said the three capitals have so far taken positive and constructive steps towards expansion of tripartite cooperation in the field of energy activities.
He stressed that Islamabad was to increase its energy imports from Tehran and Dushanbe to meet its increasing power demands.
Ismail Khan voiced Afghanistan's readiness to take advantage of Iran's rich experiences in the field of hydropower and dam-building projects.
Meanwhile, Tajik Minister of Energy and Industry Sherali Gul hailed Iran's cooperation to construct the Sangtoudeh 2 hydropower plant in Tajikistan.
He stressed that after being completed, the power plant would add 220MW of power to Tajikistan's energy capacity.
Gul added that Dushanbe was studying construction of two more 150MW and 75MW hydropower plants with Iran's help in the future.
Iran has already constructed the Sangtoudeh 1 power plant with the production capacity of 220MW in Tajikistan.
The Tajik minister expressed hope that operational works for the power plants would begin in a near future.