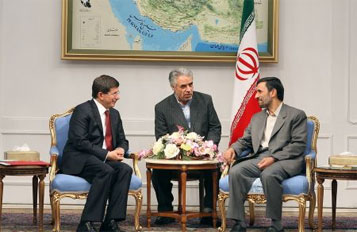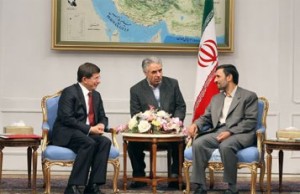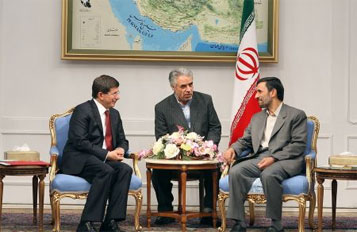 President Mahmoud Ahmadinejad said cooperation between regional countries would bring stability, tranquility and development for all nations.
In a meeting with Turkey's visiting Foreign Minister Ahmet Davutoglu on Saturday, Ahmadinejad added expansion of regional countries' cooperation, the Islamic Republic of Iran and Turkey in particular, on the threshold of the fall of hegemonic governments is a necessity.
He stated that development of IRI and Turkey will benefit the two nations, the region and the world.
Referring to current numerous potentials in the two countries, the President said Tehran and Ankara should tap into the potentials to expand bilateral relations in all fields especially in energy sector.
The Turkish Foreign Minister, for his part, said expansion of IRI-Turkey relations in the current situation is necessary.
Davutoglu also congratulated President Ahmadinejad for his reelection and submitted him a written message from Turkish President.