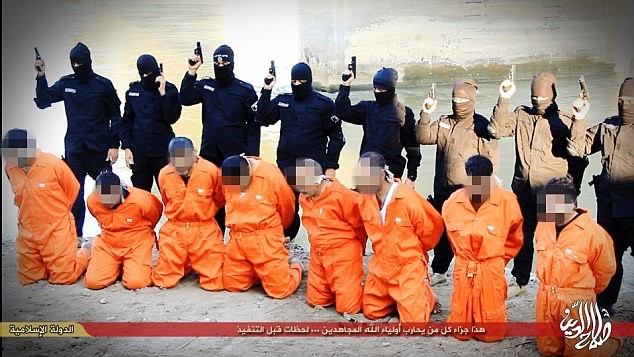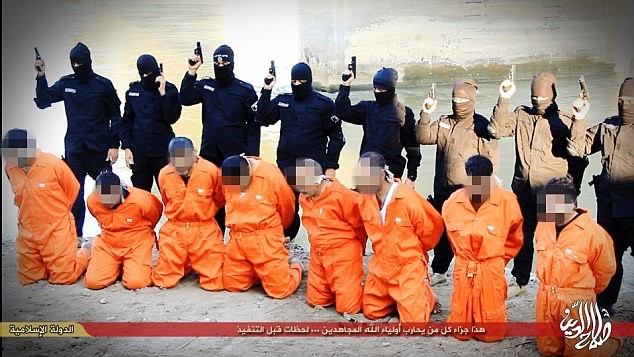 Islamic State have released photos from one of their forthcoming videos showing the execution of eight Iraqi police officers, who are accused of informing on Islamic State for the Iraqi government.
Entitled 'the Day of Judgement', the photos show eight Iraqi men dressed in orange Guantanamo Bay style jumpsuits.
Standing behind them are Islamic State's notorious security forces, known for carrying out mass public executions in broad daylight.
Several of the victims are named in the captions and appear to have been interviewed for the video as they are seen wearing microphones.
The leader of the group is named as Captain Hossam Salah Bnosh. According to Islamic State media, Bnosh and seven other police officers converted to Sunni Islam and joined Islamic State
However once they had infiltrated the Islamic State security forces, they began to secretly spy for the Iraqi government.
The group are accused of providing intelligence information to the Iraqi government, identifying targets for coalition airstrikes against Islamic State.
Ahmad Basil Ramadan, a young bearded Iraqi, was accused of giving information on the location of Islamic State soldier houses.
Another prisoner wearing a microphone is named as Marwan Habib Said, who reportedly joined Islamic State security forces but was caught giving target information to the Iraqi government.
The photos show how the eight prisoners were blindfolded and frogmarched along the edge of the river, most likely the Euphrates.
Their hands are handcuffed behind their backs and each Islamic State fighter appears to be holding their victim's neck as they march to their deaths.
They appear to have been taken to a quiet area away from the city, possibly under a motorway bridge, near the river. Forced to kneel down and unable to see, the prisoners wait as each Islamic State fighter draws their pistol and takes aim.