Iraq
Middle East
Syria
Turkey
ISIL Terrorists Escape Syria's Jail, US Transfers Tens of Foreign Inmates to Iraq
Five ISIL (also known as ISIS or Daesh) Takfiri terrorists broke out of a prison in Northeast Syria on Friday after the Turkish army shelling in the nearby region, a military media official in the Kurdish-led Syrian Democratic Forces (SDF) announced.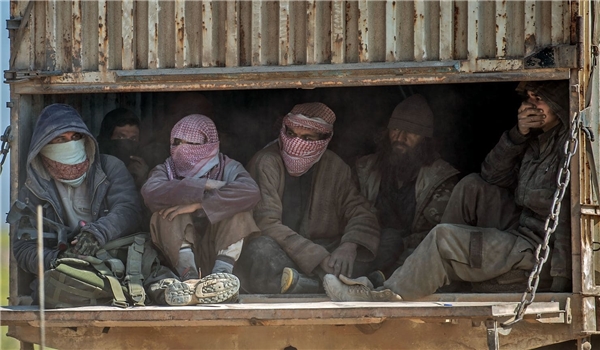 Marvan Qamishlo stated that the detainees escaped from a prison in Qamishli city, as according to reports, ISIL fighters had increased their activity since the beginning of the Turkish offensive in Northern Syria.
The terror group claimed responsibility for the Friday's deadly car bomb in Qamishli, the largest city in the Kurdish-held area, even as the city came under heavy Turkish shelling.
The Syrian Observatory for Human Rights also announced a car bomb exploded overnight at a prison holding ISIL detainees in the city of Hasaka in Northeastern Syria, forcing Kurdish security forces to send reinforcements to prevent their escape.
On Thursday, a Kurdish official warned that ISIL detainees could break out of detention as security forces confront the Turkish offensive in Northern Syria and their ability to guard detainees is weakened.
Earlier, women affiliated with ISIL attacked security offices with sticks and stones during unrest at a camp where they were held by Kurdish forces in Northeastern Syria, the region where Turkey has launched a military operation.
The incident at al-Hol camp started in the foreigners' section and involved more people than during previous trouble at the camp, Qamishlo noted.
"The Daesh women rose against the internal security forces at al-Hawl, they set ablaze tents and attacked the administrative and security offices there with stones and sticks," he stated.
The camp is holding tens of thousands of people, nearly all of them women and children who were transferred from ISIL territory captured by the SDF earlier this year.
Aid agencies have reported tension and insecurity in the camp, which is housing about 68,000 people.
Also on Saturday, SANA reported that US forces moved 80 foreign detainees affiliated to the ISIL terrorist organization from al-Shaddadi prison, Southern countryside of Hasaka, into Iraq.
US President Donald Trump has for several times threatened to set prisoners from Europe who joined the terror group in Syria and Iraq free at the EU's borders if they refuse to take back the captives.
Thousands of people, including men, women and children from more than 50 countries, are lingering in detention camps in Northeastern Syria, held by Washington-backed fighters.