Iraq
ISIL Terrorists Threatens to Kill Grand Ayatollah Sistani who is For Unity of Ummah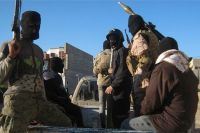 The terrorist Islamic State of Iraq and the Levant (ISIL) threatened to assassinate the Iraq-based Muslim religious leader, Grand Ayatollah Ali al-Sistani.
"At present, the Shiite religious leader in Iraq is a person named Ali Sistani who is a remnant of Safavid generation. We warn all Shiites that Sistani should leave Iraq, otherwise, we will kill him," ISIL said in a statement on Tuesday.
The students at Qom's Seminary in Central Iran called off their classes today for one hour in protest at the ISIL's threat and are due to hold a peaceful protest rally, the Persian-language Adyan news reported.
One of the security officials in Iraq's Southern city of Najaf, where Ayatollah Sistani lives, told Adyan news that security measures have intensified outside the Shiite leader's home, and said, "All people should be confident that the dirty hands of Wahhabists will never reach our Great religious leader."
Iraqi troops, backed by local Sunni tribesmen, are fighting Al-Qaeda-affiliated militants, including ISIL, in the country's Western regions, including Anbar province.
Iraq's Interior Ministry has said that militants have launched an open war in Iraq and they want to push the Middle Eastern country into chaos.