Syria
ISIL Vs 'Islamic Front': War over Power between Syria Terrorists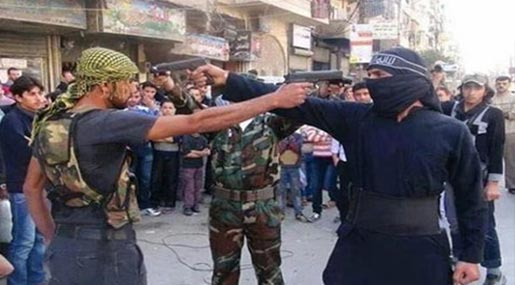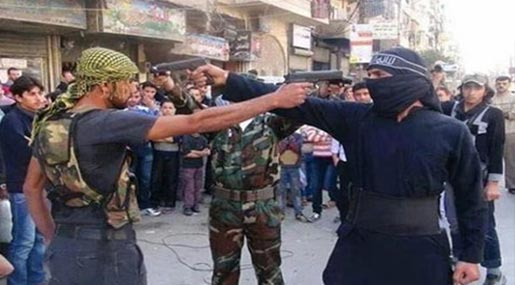 Divisions among Syria armed groups are more and more emerging to the surface, revealing more and more of the armed groups criminalities and seek to power away from slogans of freedom and justice.
The so-called Islamic State Front issued Sunday a strong warning to the Islamic State of Iraq and Greater Syria ISIL, three days after a new front made up of local militants emerged against them.
"We fight against whoever attacks us and whoever pushes us to battle, whether they are Syrian or foreign," said the Front, an alliance that groups tens of thousands of mostly extremist fighters.
Since Friday, along with the so-called "Syrian Revolutionaries Front" and the "Mujahedeen Army", the so-called Islamic Front has been engaged in fierce fighting with ISIL.
The latest clashes broke out Friday after the ISIL members were accused of killing a doctor in Syria's northern province of Aleppo.
The "Islamic Front" issued a statement ordering ISIL to hand over the doctor's killers. Clashes later erupted between the groups.
The focus of combat has been in opposition areas in Aleppo and Idlib provinces, but Sunday spread to Hama and Raqqa provinces.
Scores of fighters have been killed on both sides. ISIL killed at least 50 rival militants Sunday, according to the Britain-based Syrian Observatory for Human Rights, citing insurgents and medics, including seven "who were summarily executed by ISIL" in Harem, in Idlib.
Some of the heaviest fighting Sunday took place in the town of Manbij in Aleppo province, where militants seized an ISIL compound. The Observatory said ISIL fighters used car bombs.
Clashes also erupted in the town of Tabqa in the northern province of Raqqa, where ISIL is most dominant.
ISIL fighters ceded ground near the Turkish border to rival militants Sunday, in what seemed to be a tactical withdrawal.
According to the information, ISIL had pulled back Sunday from strong points including Dana and Atme in Idlib province and that fighters from the Nusra Front and Ahrar al-Sham, with the Islamic Front, had moved in.
The Islamic Front's statement comes a day after ISIL distributed an audio statement warning militants to stop pressuring it, or that it would withdraw from the front lines in Aleppo and let in the regime forces.
ISIL also accused its rivals of waging a "media war" against it, and of "stabbing [it] in the back."