Syria
ISIS terrorists kill and crucify 5 civilians in Deir Ezzor countryside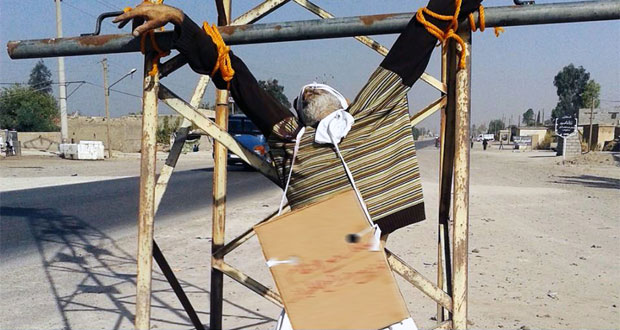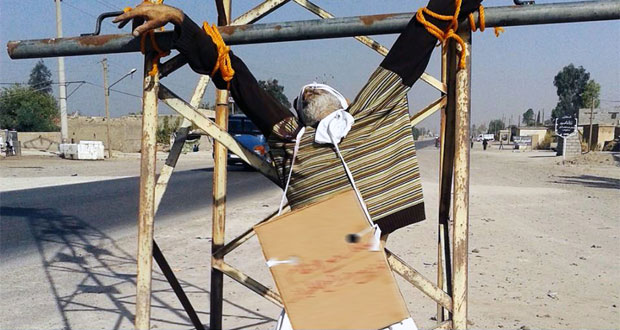 In new manifestation of unbridled brutality, members from the Islamic State of Iraq and Syria (ISIS) terrorist organization killed and crucified five civilians in Mouhessen town and Jadid Ekeidat village in the countryside of the northeastern province of Deir Ezzor.
SANA reporter quoted a number of residents in Mouhessen town as saying that ISIS terrorists killed three civilians from the town, two of them are elderly men, on charges of "apostasy" and crucified them in the town's square.
men crucified in deir ezzor1
In the same context, other ISIS terrorists killed two civilians by shooting them in the head after blindfolding them and tying their hands. The two victims were also crucified in the square of Jadid Akidat village, according to inhabitants who spoke to SANA reporter.
Earlier, terrorists from ISIS killed and crucified two citizens in al-Hessan village, executed two others in Mouhessen town and assassinated lawyer Dawood Suleiman al-Shaher, member of the general commission of the Bar Association branch in Deir Ezzor, who had been abducted for several days.
men crucified in deir ezzor2
In Damascus, three women, including a girl child, were wounded and two houses were damaged in a terrorist mortar attack that hit al-Shaghour neighborhood.
A source at the Police Command told SANA reporter that terrorists fired a mortar round that landed in Zqaq al-Sheikh in the neighborhood, injuring 3 women, including a 9-year-old girl, in addition to damaging two houses.
On Saturday, four citizens, among them a girl, were wounded by mortar shells fired by terrorists on al-Shaghour, al-Abbasiyyeen and al-Qassaa' neighborhoods in the city of Damascus.