Iran
Islamic Unity
"Islam, religion without prejudice, segregation," Iranian Sunni cleric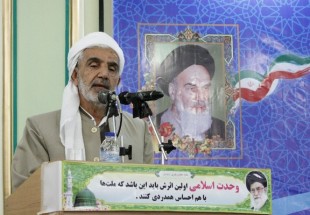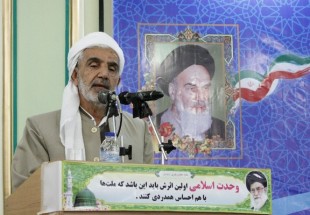 Mamusta Faeq Rostami, member of the Assembly of Expert, attended the first conference on 'Proximity of Islamic Denominations, Opportunities, Prospects' held in Sanandaj, Iranian Province of Kurdistan, hailing Islam as a religion away from prejudice and segregation, reported Taqrib News Agency (TNA).
He expressed regret over the regional clashes and said," Enemies have made a bloodbath in the region by treachery or enticing some beguiled people who have launched terrorist groups under the name of Islam."
Iranian Sunni cleric urged Muslims to maintain their vigilance amid the present critical situation in the world of Islam and noted it is high time to put an end to all bloodshed and chaos in the world of Islam.
"Islam is the religion of blessings and honor" said Mamusta Rostami expressing regret that the enemies are propagating the holy religion as the opposite.
Representative of the Kurdistan people in the Assembly of Expert reiterated that the war in some Muslim countries is due to lack of unity in the world of Islam urging Muslims to maintain their solidarity.
He said," Muslim scholars are like the guardians of unity and fraternal ties because all Muslims (from different denominations) share the same prophet and the same religion."
The first meeting of Islamic proximity was held in the Sunni dominated city of Sanandaj as Shia and Sunni religious figures, scholars and academicians have welcome the one-day event.