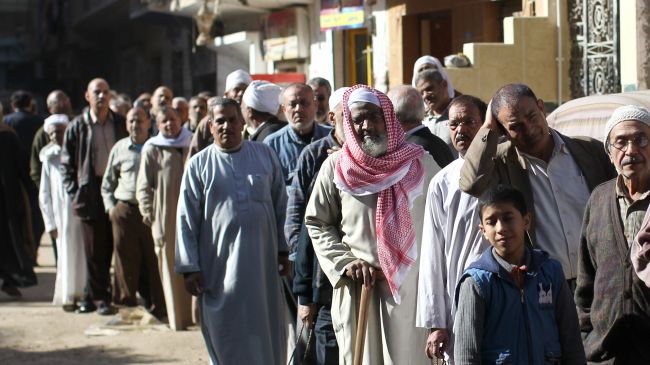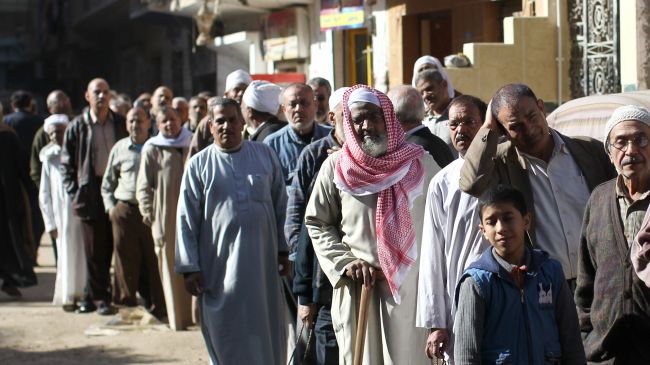 Over 70 percent of Egyptians who participated in the 2nd round of the two-stage referendum have voted in favor of the newly-written draft constitution, official reports say.
The Muslim Brotherhood released preliminary results from the second and final round of voting on the country's constitution, on Sunday.
According to the movement's official website, from the two rounds of balloting, a total of 64 percent of voters said 'yes' to the draft charter.
"The Egyptian people continue their march towards finalizing the construction of a democratic modern state, after turning the page on oppression," the Brotherhood's political arm, the Freedom and Justice Party, said in a statement.
On Saturday, over eight million people from the 25 million eligible voters in 17 provinces cast their ballots in the second round of the referendum on the new constitution, which states that the nation must be governed by the principles of Islamic law.
Official results are expected to be announced on Monday or Tuesday.
Egyptian voters formed queues at many polling stations across the country and voting was extended by four hours to 11:00 p.m. local time (2100 GMT).
In the first round, which was held on December 15 in ten provinces, 57 percent voted in favor of the draft constitution.
Egypt was rocked by tensions after a controversial declaration by Morsi in late November gave him unlimited powers and put his decisions beyond judicial oversight.
The president later rescinded the decree, but his hasty organization of the referendum sparked further demonstrations.
Based on the results, President Mohamed Morsi is now obliged to call elections for the lower house of parliament within two months.